Enjoy this Book Of One : – ) Volume 6 excerpt!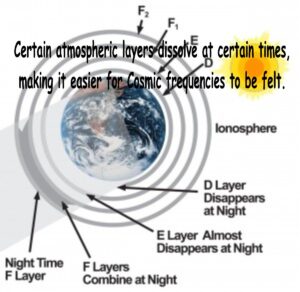 Increasing, unceasing Cosmic Energies can make ones life arduous while moving through the ascension process so being aware of the cause for certain signs and knowing how to move these energies helps. As one who is very aware of incoming energies it seems only reasonable to document what seems to work, somewhat, for what seems as this physical body. Remember, first the energies come into our atmosphere, causing, for me, what's described below, AND THEN our body must assimilate them, causing other conditions related to the synchronicity of our physical body with the other bodies that form our constitution. In time, this too shall pass…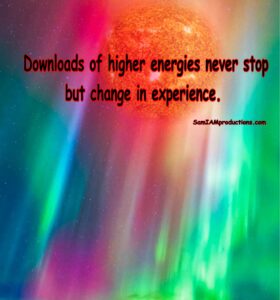 When one is up repeatedly throughout the night—keep in mind certain atmospheric layers dissolve at certain times, making it easier for Cosmic frequencies to be felt—thirsty, gaseous, needing to void, breathing oddly, itchy, sensing bouts of repeated body heat and subsequent cold, feeling body aches and pains, having a runny nose and watery eyes, it's a sure sign that Cosmic Energies are rampant. Practically speaking, it's useless to try and ignore these signs. The best way to deal with them comes with the knowledge that: this too shall pass. In the meantime, one can follow certain practices to make the time pass more fluidly.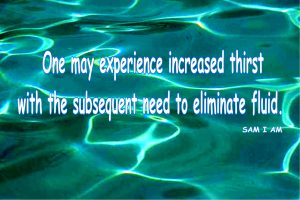 1- Stay Hydrated. Remember as the body assimilates these energies all life atoms within it vibrate at higher frequencies necessitating increased fluid intake and subsequent elimination of outdated body cells.
2- Get up and move the body in comfortable ways using methods such as Qi Gong, Yoga or whatever feels appropriate.
3- Use tools such as essential oils both on the body and in diffusers. For instance, a combination of Cedarwood and Orange essential oil in a diffuser fills surrounding air with grounding energies. A combination of Frankincense, lavender and Neem essential oil sprayed on wrists, neck and behind the ears draws positive energies.
4- Eliminating gas is inescapable so let it all go with gusto! Be aware that what is referred to as 'ascension diarrhea' is normal.
5- Breathing techniques assist in moving energies. For instance one can draw in long breaths and let them out in a sequence of several short breaths, such as when birthing a child (we are indeed birthing our very own Higher Self).
6- Use the time to be creative. For instance, journal, draw, read inspirational material, etc.
7- Repeat phrases of neutrality, such as Light (on the intake of breath draw it in through the crown) and Love (let the breath out through the mouth, while radiating heart energy out into your body, the room and beyond).
These are but a few practical tools one can use to occupy time while feeling like a puppet on a string as these Cosmic Energies continue to bombard Mother Earth affecting everything within and upon her.
One can easily move through increasing Cosmic Energies and change the experience by concentrating on higher aspects. This consists of being open and receptive to more evolved aspects of one's Self to document insights and tools, subsequently using them to make the experience and human expression one of greater Light. As souls, we have been through this experience and expression of changing forms many, many times, and this is what is occurring now as each human form adjusts to incoming frequencies to remain upon Gaia. It is only through the constant adjustment of forms and frequencies that one evolves into yet another expression and experience to expand the richness and BEingness of all that is, was, and ever shall be, for only though expression and experience does Consciousness know itself more fully.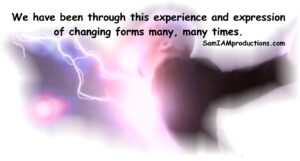 Putting this aside, human forms are adjusting to incoming frequencies in the form of consistent waves, much more easily than eons ago. Many shall continue to leave the planet but many more shall continue to experience and express on Gaia encased within a form more in tune with incoming frequencies. Know that this expression and experience is a natural course of events we as souls have experienced many times to evolve. Know that as these Cosmic frequencies continue to permeate earth, those upon her will adjust accordingly. It is with the greatest pleasure that more evolved aspects of Consciousness continue to break through the veils of forgetfulness to interact with those ready to receive.
Scan the Blog Archive for more information.
Support your Self, a loved one or a friend by purchasing an inspiring bedside companion. Remember, a physical book in your hand cannot be erased digitally and is easier on the eyes and soul than gadgets.
Inspiring and meaningful, The Book of One : – ) Series holds channeled messages, the Author's Experiences of higher realms and moving between 3D and 5D, ascension tools, ascension symptoms, affirmations, and conscious living tips to move through daily life. Inspire yourself today with a perfect bedside companion. As of November 2021 the Book of One : – ) Series consists of 5 books: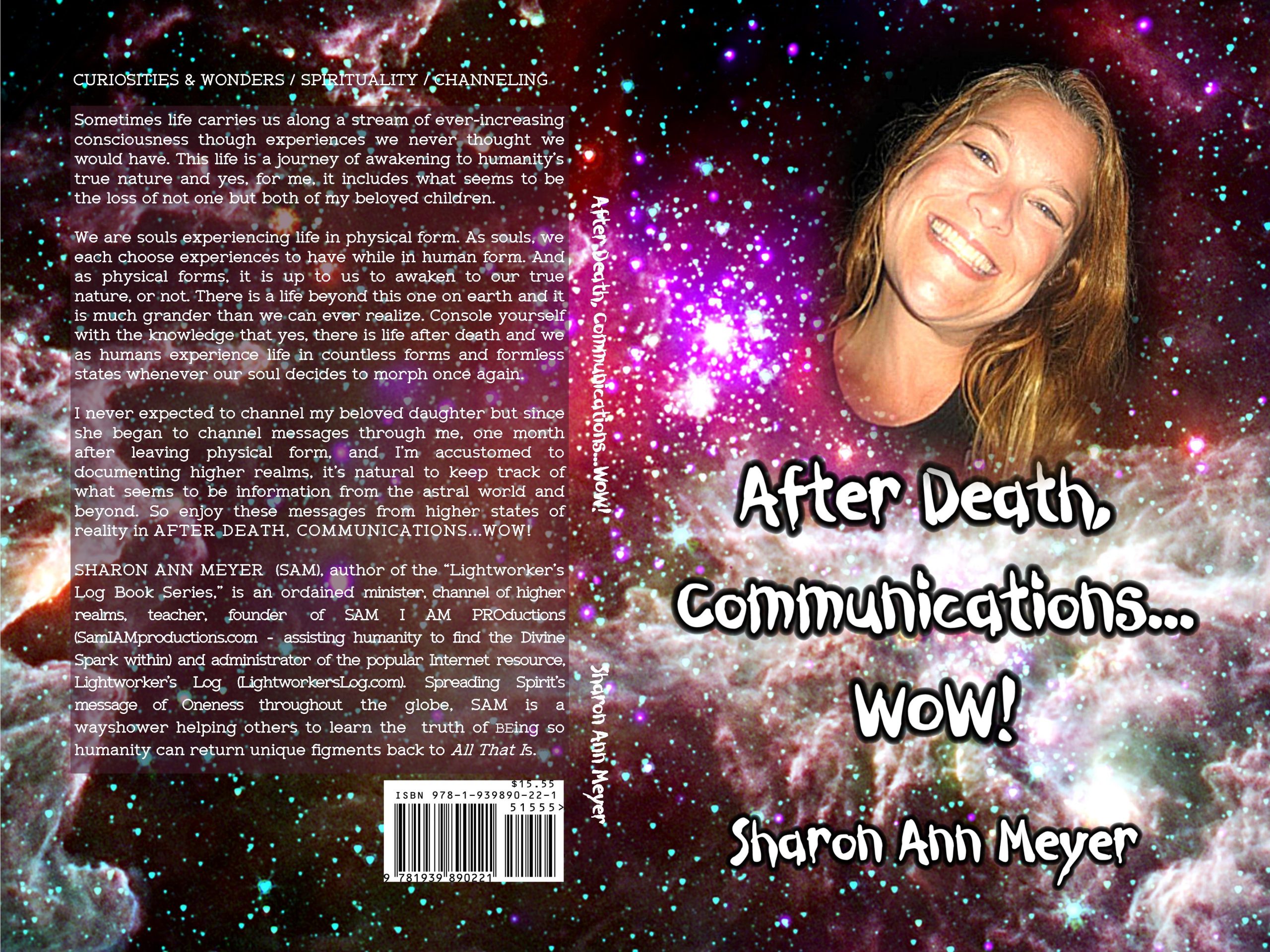 Everything on this website is free and donations to keep it operating are very much appreciated. Support those who support you.
It is as simple as that. Connect through the CONTACT page!