Enjoy this Book Of One : – ) Volume 6 excerpt!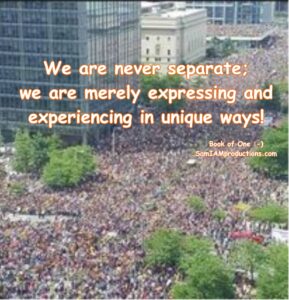 "We are spiritual beings taking on body after body, forms that are built up around us, as cushions to veil the layer of true spiritual consciousness, the knowledge of which we truly are. With each body, each form, each veil taken on another layer adds to the illusion, another layer covers the Consciousness of true beingness, another layer adds to the confusion of what we, as spiritual beings, truly are.
"We are not truly humans, but we continued to take on form after form to experience and express as unique beings of a Consciousness, a unique Consciousness within each aspect, filament, life atom, if you will, that chooses to seem separate from the Whole. And yet, we are never separate; we are merely expressing and experiencing in unique ways, in many what seem as locations and times, in many what seems as forms and formless states.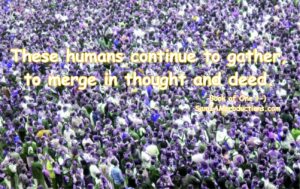 "And yet, as the illusion of the soul continues to evolve, it still desires to express as a human, for as a human it experiences many aspects of its very own consciousness that cannot be expressed in other forms or ways. As humans, the various bodies–veils taken on to cover up the consciousness of its true state—continue to add to the illusion of separation. Yet that illusion of separation is now dissolving as many aspects of the Consciousness of all that is, was, and ever will be desire now to return to experience the Wholeness once again. And as these aspects of Consciousness, these humans, continue to gather, to merge in thought and deed, it is with the celebration of consciousness that all realms of Consciousness, all aspects of Consciousness, continue evolving to the true state of beingness.
"Make no mistake of what you as a part of humanity are: a life atom, brilliant spark of Light, experiencing and expressing in what seems as human form, for some aspects for the very last time.
"It is with the greatest respect that the more evolved, if you will, aspects of ones very own consciousness continues to now coalesce and move into that multidimensional being to experience and express others in yet another unique way, as a multidimensional being knowing its true power and purpose: to express the Oneness and Love of All That Is."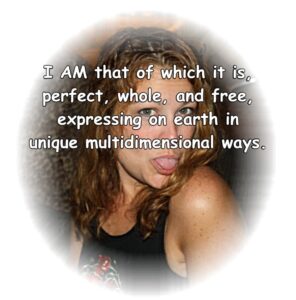 "So be it now and forevermore. I AM that of which it is, perfect, whole, and free, expressing on earth in unique multidimensional ways, returning to the Light of One as humanity also moves forward into the consciousness of its true beingness as a community of life atoms evolving in Consciousness, increasing states of awareness."
Energies continue to be intense but last night was a bit better than the night before. This is the first recognized channel with two seemingly separate aspects, the first of which appears more evolved than the second stating the last two lines.
I cannot stress enough the value of keeping an inspirational book in print at bedside! Consider boosting your vibrational rate with the Book of One 🙂 Series.
Support your Self, a loved one or a friend by purchasing an inspiring bedside companion. Remember, a physical book in your hand cannot be erased digitally and is easier on the eyes and soul than gadgets.
Inspiring and meaningful, The Book of One : – ) Series holds channeled messages, the Author's Experiences of higher realms and moving between 3D and 5D, ascension tools, ascension symptoms, affirmations, and conscious living tips to move through daily life. Inspire yourself today with a perfect bedside companion. As of Summer 2023 the Book of One : – ) Series consists of 6 books: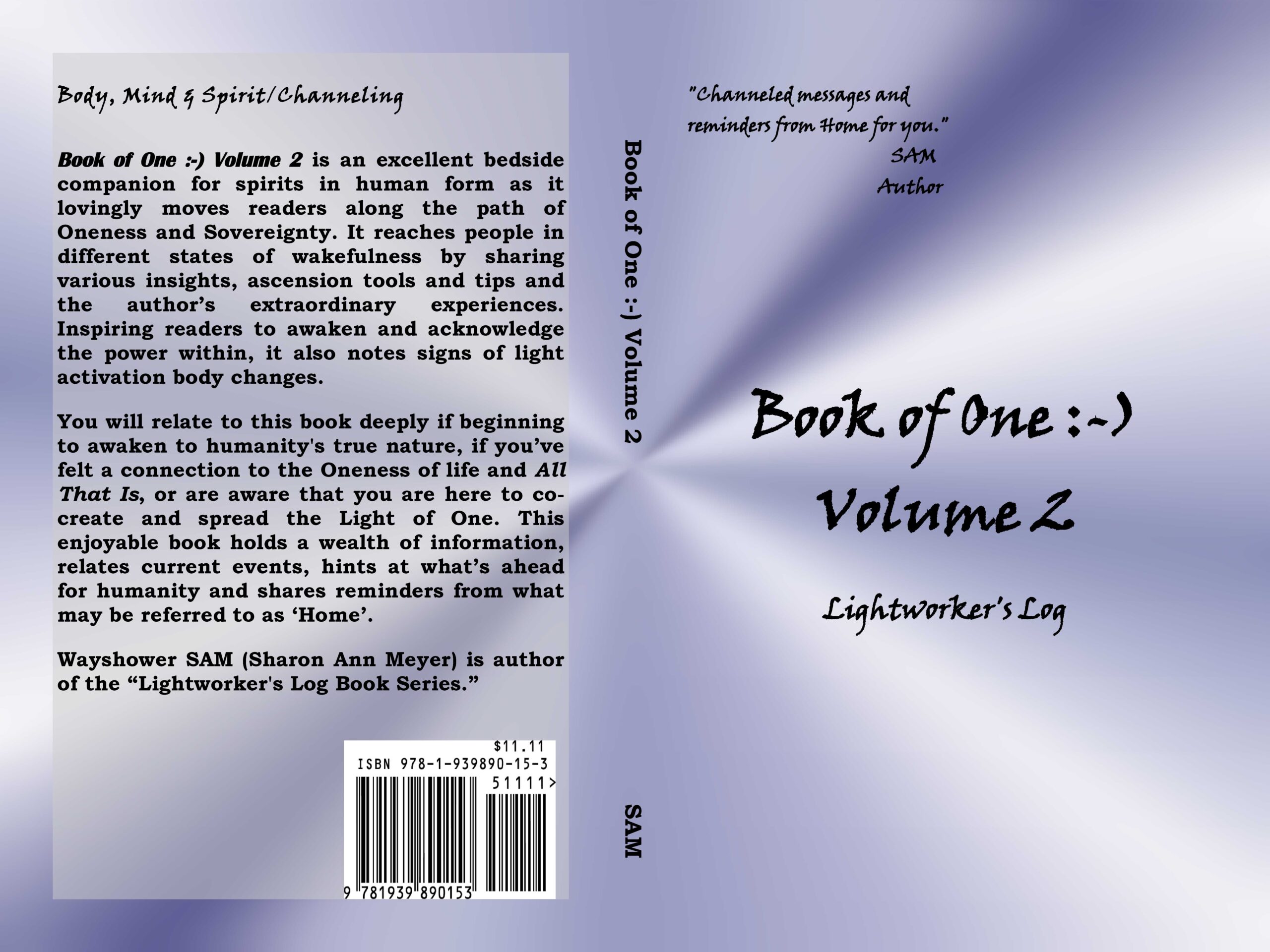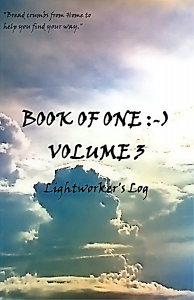 Book of One : – ) Volume 4 Lightworker's Log helps humanity to deal with world events and body changes. It holds various insights, extraordinary experiences, notes signs of body changes for those choosing to evolve with Mother Earth and offers affirmations and conscious living tips. You'll relate to this book deeply if you are beginning to awaken, have felt a connection to the Oneness of life and All That Is, or are aware that you are here to spread the Light of One. You'll enjoy this book regardless of your state of awareness for it holds a wealth of information and ascension tools.
Book Of One : – ) Volume 5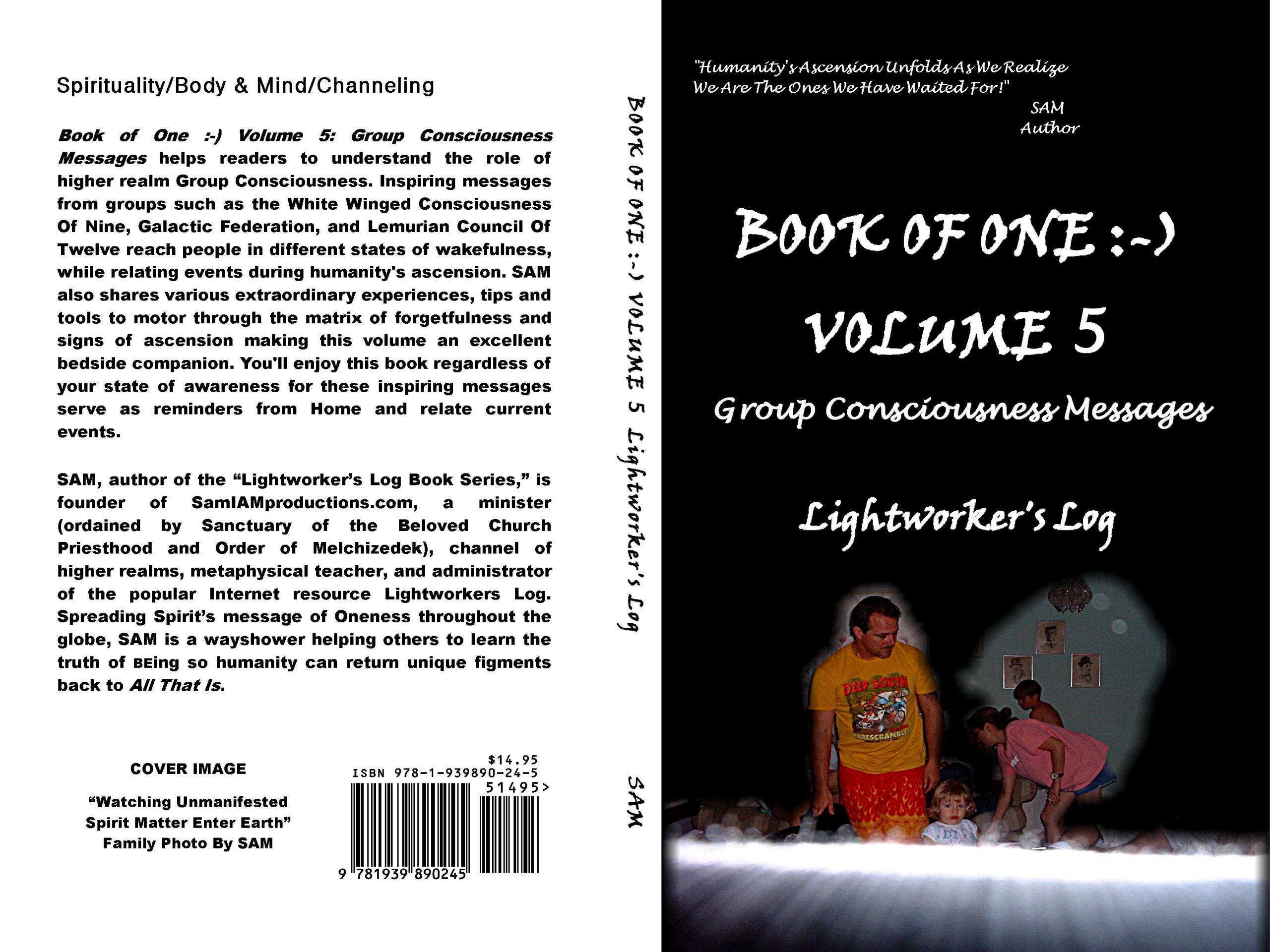 This volume,

Book of One : – ) Volume 5: Group Consciousness Messages

helps readers to understand the role of higher realm Group Consciousness in humanity's ascension. Inspiring messages from groups such as the White Winged Consciousness Of Nine, Lemurian Council Of Twelve and the Galactic Federation reach people in different states of wakefulness, while
relating earth and ethereal events during humanity's ascension

. SAM also shares

various extraordinary experiences

making this volume an excellent bedside companion. You'll enjoy this book regardless of your state of awareness for the messages within it serve as reminders from Home, relate current events, and hint at what's ahead for humanity. This volume holds an Index to make finding topics of interest much easier.