What Do You Feed?
SAM I AM PROductions helps humanity's ascension using Internet Technology and videos. Review our inspirational and thought provoking books with practical tools and messages for humanity's ascension.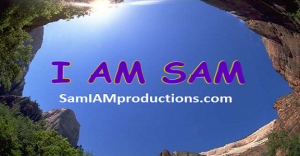 Contact SAM to receive a free copy of Prayer Treatments: Lightworker's Log when you purchase
Book Of One 🙂 Volume 5: Group Consciousness Messages!
World Healing Meditation
Add Your Unique Light To The World!
RIGHT CLICK HERE FOR FREE DOWNLOAD!