"We are with you. We are those parts of you that have been lost in the maze for aeons of time. We ask you to listen to Self. We ask you to remember, to pay attention to what is on your plate. As things fall apart upon your earth, know that only that which appears in your direct observance should be addressed. Pay attention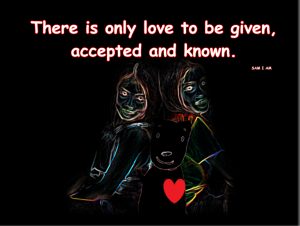 to those in your direct observance and know they are parts to be accepted within yourself. They are parts to be addressed in other areas of your Self. There is no one here but the Self of each unique individual and each unique individual is now addressing those parts it has cast aside. Become enamored with those parts. Address each part as it appears to you and remember there is only love to be given, accepted and known.
"We are the White Winged Consciousness of Nine and we ask you again, pay attention to what is in your field of energy."
Experiences of good often increase when we concentrate on inspirational thoughts. Comments, questions and suggestions welcome at theContact Page.~Support your Self by purchasing an inspiring bedside companion. Introducing Book Of One 🙂 Lightworker's Log Volume 4!~Visit SAM I AM Productions to support your Self and the author by purchasing books there and not through greedy corporations. Loving You!