"We are the White Winged Consciousness of Nine and we wish all to know, all are loved and watched over very carefully despite the tumultuous activities upon your earth. As these New Earth energies continue to settle there are many things we shall relate in time. This is not to say that your time on the New Earth will always be filled with turmoil but to relate that despite what one may experience all is indeed in Divine Order. This is, after all, a soul choice to experience life in physicality, to experience what it is like to forget ones true roots, to experience what it is like to return to those true roots after many believe there is no such thing but turmoil, chaos and disruption.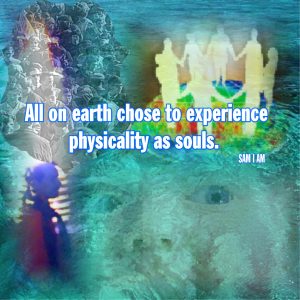 "We are here as a group of souls long ago having experienced earth life to relate, all is not lost, for nothing is gained nor loss in your experience. This may seem ill advised to believe but we want all to know your experience is yours alone, based on eons of thought forms and decisions left upon the old earth form from the beginning of your decision (as a soul) to experience physicality. We want all to know; as we did, you too shall return to the living and BEing experience in all aspects when your soul's experience has reached its end. That time has come and is coming for many souls now upon your earth. These souls chose to leave the earth experience to continue a journey of experience in other realms of existence before finally returning in all aspects to the Truth of BEing, which no form has ever left in True Reality. This may seem difficult to follow but know all on earth chose to experience physicality as souls. All on earth are now making the decision to leave this game, if you will, or return to the full knowingness that ye are not only gods of matter but so powerful that ye have experienced life in physicality without ever leaving the Whole of One.
"All on the New Earth now conclude their journey and return to the joy of BEing, of knowing the Truth has never left their essence of awareness. It is only in the small mind of mind that one appears experiencing life in physical form.
"We leave you today with this thought: Is it your time to leave physicality? If so, perhaps you may wish to welcome the energies of Oneness and Love those within your current dream."
Experiences of good often increase when we concentrate on inspirational thoughts. Find more channeled messages in "Book of One 🙂 Volume 1″ available through New Leaf Distributing at , Book of One 🙂 Volume 2 OR visit SAM I AM Productions to support the author by purchasing books there and not through greedy corporations. Loving You!