As the frequency and vibrational state within consciousness continues to change at an alarming rate, one may desire to be aware of their own frequency and vibration. For it is only through knowing oneself that one may continue to gauge the changes around it. Each being of consciousness is enclosed in its own field of conscious awareness and yet all are part of the Whole of BEingness. This will never change but the aspects of the Whole, the particles if you will, continue to become aware of that BEingness as all move through the time/space continuum.
Those on earth now quickly move through the chaos of separation, through this portal of awareness. And yet, as this occurrence continues to build momentum, all begin to see very clearly that there are no lost particles, there are no humans on earth that are unaffected nor are there any that remain alone within their single consciousness. For as these massive changes occur on earth all coalesce within the etheric realm of consciousness, opening yet another door for those unaware of this aspect of Wholeness.
In the coming days and months, many shall leave earth due to various dis-ease within themselves. This is not necessarily a 'bad' occurrence but a joyous one as new opportunities arise for those that leave earth. These opportunities now include those that were curiously left behind by many that chose to not experience other aspects of Wholeness on other planets and in other states, forms or formless consciousness.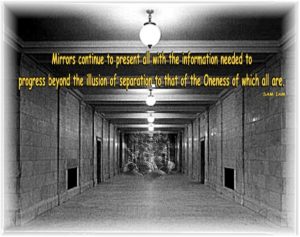 It is with the greatest respect that we the Lemurian Council of Twelve ask all to pay attention to their own state of consciousness, their own aspect of awareness, for this is the charge of each human now upon the earth. Mirrors continue to present all with the information needed to progress beyond the illusion of separation to that of the Oneness of which all are.
We leave you now with this thought: Will each aspect continue to be separation in your mind or will you embrace those aspects of your Self long forgotten?"
Experiences of good often increase when we concentrate on inspirational thoughts. E-mail comments and questions at the Contact Page and visit SAM I AM Productions to support your Self as we collectively move through these chaotic times. Loving You!