In this time of earth's great distortion, there are many habits to change, if you will pardon the expression. We, the White Winged Consciousness of Nine, are always available to help humanity make the changes necessary for ascending into a higher form of consciousness. This is not so easily done but achievable in one's lifetime if the focus is entirely upon evolution.
Hence, one sees the issue with ascension, for not many humans choose to set habits aside let alone take the time to focus solely on evolution. As the days progress, there will be many prompts to change habits. There will also be many issues and conditions to stop one from choosing evolution, for there are those not ready to end the earth game.
Yes, we have spoke of this before but it bears a new mention, for many things in your world are coming to a head as the forces of what many refer to as good and evil compete for one's attention.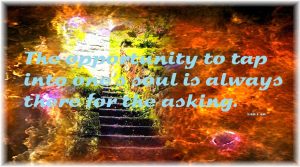 Let your thoughts focus on the whispers of soul as the days, weeks and months ahead unfold, for this will serve the body in the best possible manner. It is not our wish to interfere with soul plans but to merely point out that each soul has chosen their plan for each life. However, humanity is now at a point where soul plans may be changed if one is dedicated to evolution as it is in the best interest of all involved that as many souls as possible ascend in consciousness to avoid undue circumstances.
We shall leave it at that, much to the channel's dismay, not choosing to define the term "undue" at this time. Just know, the opportunity to tap into one's soul is always there for the asking.
Experiences of good often increase when we concentrate on inspirational thoughts. E-mail comments and questions at the Contact Page and visit SAM I AM Productions to support your Self as we collectively move through these chaotic times. Loving You!