"We are the White Winged Consciousness of Nine with news of humanity's move on this New Earth. The catastrophic events happening in large areas of your earth are preparing the ground for these higher energies of Light and Love. Those humans who have agreed to live in these areas unknowingly are anchoring these new energies. There are those called Gridkeepers who know exactly what they are doing but there are few of them on your earth at this time. Most humans are unaware that catastrophic events help to settle the Light coming into your planet at this time.
"We are here with those of you who hold this Light of One. Yes, it is a light of Oneness that now settles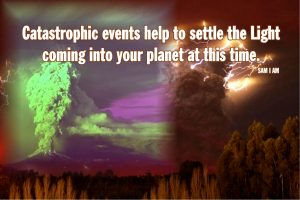 onto your earth. This great assurety of Oneness is for all who do not hold separation within themselves. Remember humanity, you are One. Each person you see, each person you interact with, each person that interacts with you is a part of that Oneness, is a part of you. These are your mirrors as many say. Pay attention to the interactions of your mirrors and know the Law of One returns to earth more steadily at this time. Treat all those you interact with with the knowledge that they are you in another form. They are part of All That Is, God, whatever you wish to call it and they are here to help you come into that Oneness within yourself. All those still seeking separation will no longer be supported on this New Earth.
"Now we wish to address those living in catastrophic areas. You are there not only to assist with the settlement of new energies but also the settlement of new communities of Oneness. Reach out to those in need. Build your communities and know all on earth hold a purpose. There are none on this earth who do not have a unique goal as souls. Many may be unaware of this truth and yet each soul holds a unique gift or talent to help humanity move forward into the Law of One once again.
"We are the White Winged Consciousness of Nine. You need only ask to receive the information desired to assist you in once again living the Law of One."
Experiences of good often increase when we concentrate on inspirational thoughts. Find more channeled messages in Book of One 🙂 Volume 2, "Book of One 🙂 Volume 1″ available through New Leaf Distributing, and Volumes 3-5; visit SAM I AM Productions to support the author by purchasing books there and not through greedy corporations. Loving You!