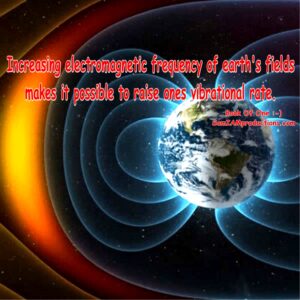 Humanity is gifted with perception choice points. These things consist, are spaces in the time spectrum of illusion that allow one to increase the knowledge of what has previously remained undisclosed. Perception choice points occur under several circumstances, one of which being upon the so-called death of a loved one. Another perception choice point is now being presented to humanity in the form of increasing frequency, made possible through what many refer to as geomagnetic activity. This change in the electromagnetic frequency of earth's fields makes it possible to raise ones vibrational rate to more closely align with the higher frequencies previously undetected by the human mind.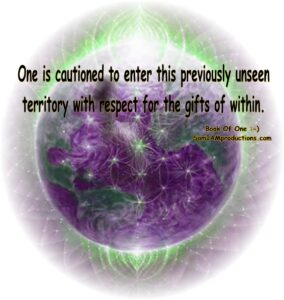 As these frequency choice points continue to allow humanity to see what has been previously unseen, both literally, physically to the human eye, but first, most importantly, through what many refer to as the third eye, the opening of the pineal gland, the choice points allow humanity to further evolve within the game it has chosen to play on earth's realm, the globe of existence for those spirits wishing, desiring to increase knowledge of ageless wisdoms, of true BEingness. One is cautioned to enter this previously unseen territory with respect for the gifts of within.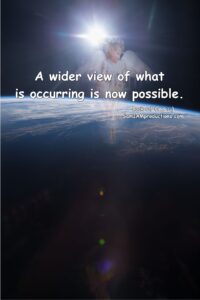 Much of humanity has not chosen to experience the evolution made possible through the perception choice point of changing electromagnetics. However, more of humanity has chosen to be gifted with the ability to tap into these previously undetected electromagnetic frequencies through the death of a loved one. However, caution is warranted, for it is the electromagnetic frequency of the departed loved one that must be fully attuned and aligned with the physical being still upon earth in physical form and this departed loved one, in order to make the best use of gifting those left behind with truths within their realms, what many be refereed to as astral realms, a more wider view of what is occurring.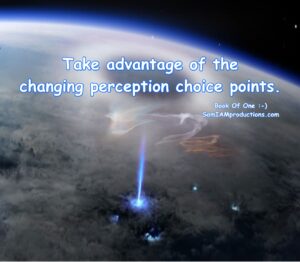 Be clear that as each moves through this process of perception choice points the ability to glean ageless wisdoms lies further beyond those astral realms. Yet, many have chosen to move through those astral realms of disclosure without ever reaching the higher frequencies of ageless wisdoms not enmeshed within the duality in struggle of separation and limitation.
It is with the utmost respect that the higher realms allow humanity to take advantage of the changing perception choice points, each choosing its own path to further awareness of Self, or leaving the earth realm to evolve more fully in what may be referred to as future physical states.
Comments, questions and suggestions welcome at the
Contact Page.
Support your Self, a loved one or a friend by purchasing an inspiring bedside companion. Remember, a physical book in your hand cannot be erased digitally and is easier on the eyes and soul than gadgets.
Inspiring and meaningful, The Book of One : – ) Series holds channeled messages, the Author's Experiences of higher realms and moving between 3D and 5D, ascension tools, ascension symptoms, affirmations, and conscious living tips to move through daily life. Inspire yourself today with a perfect bedside companion. As of September 2021 the Book of One : – ) Series consists of 5 books: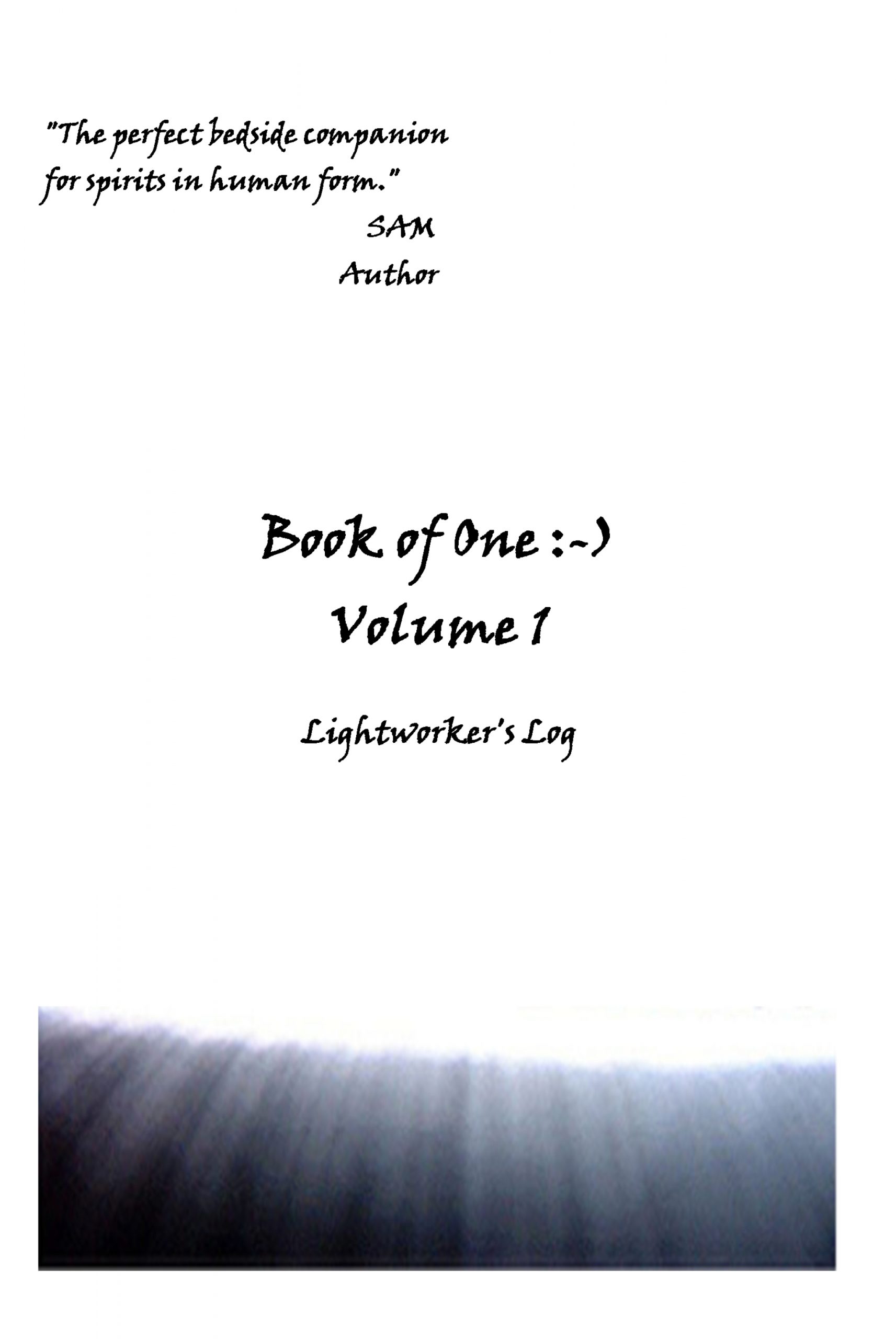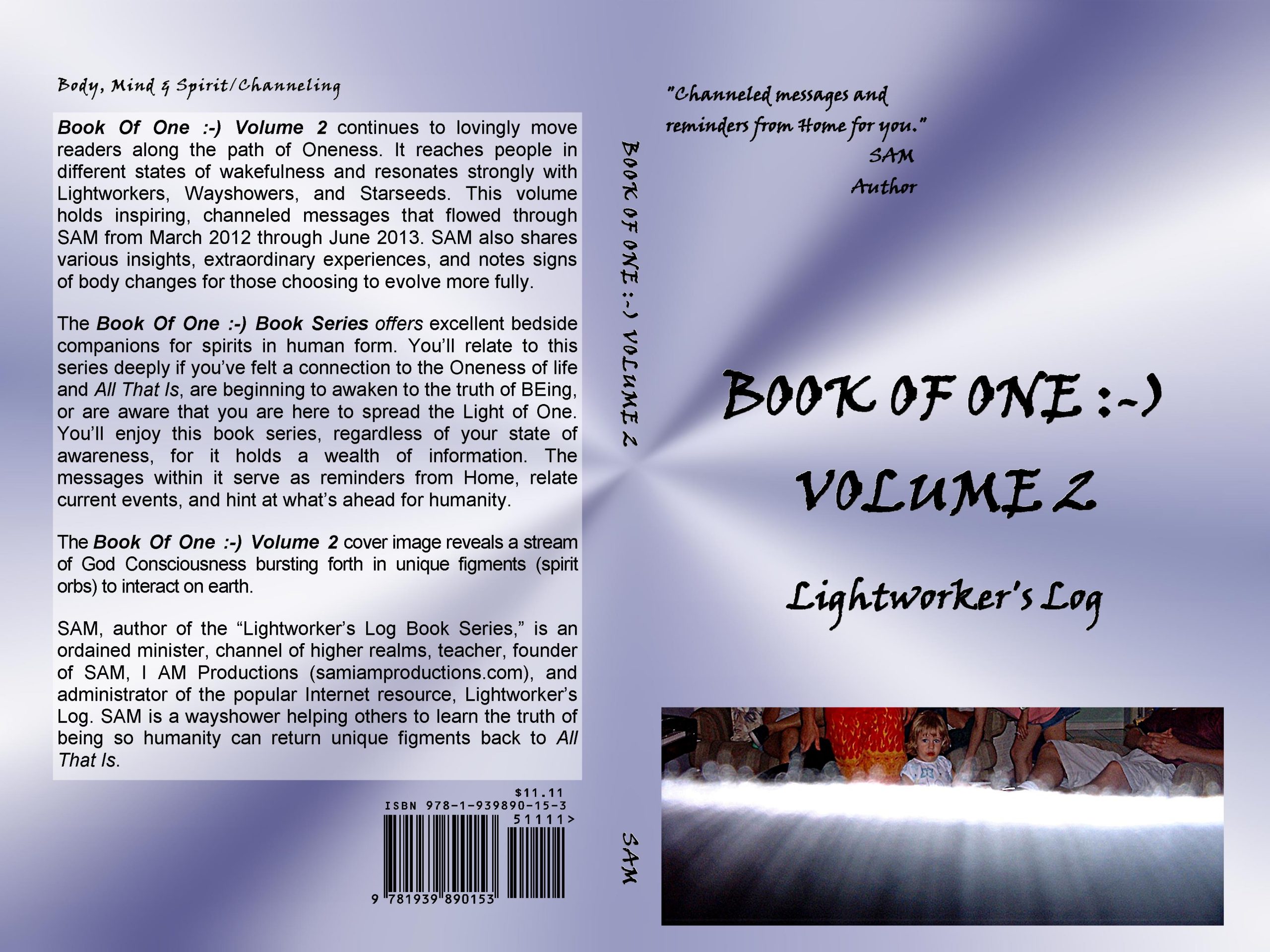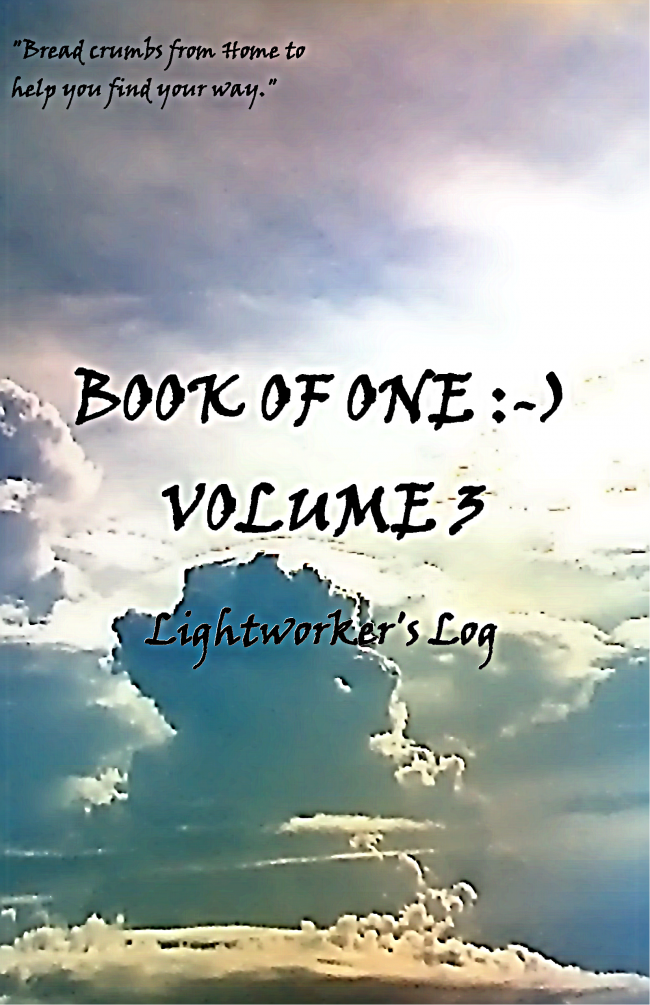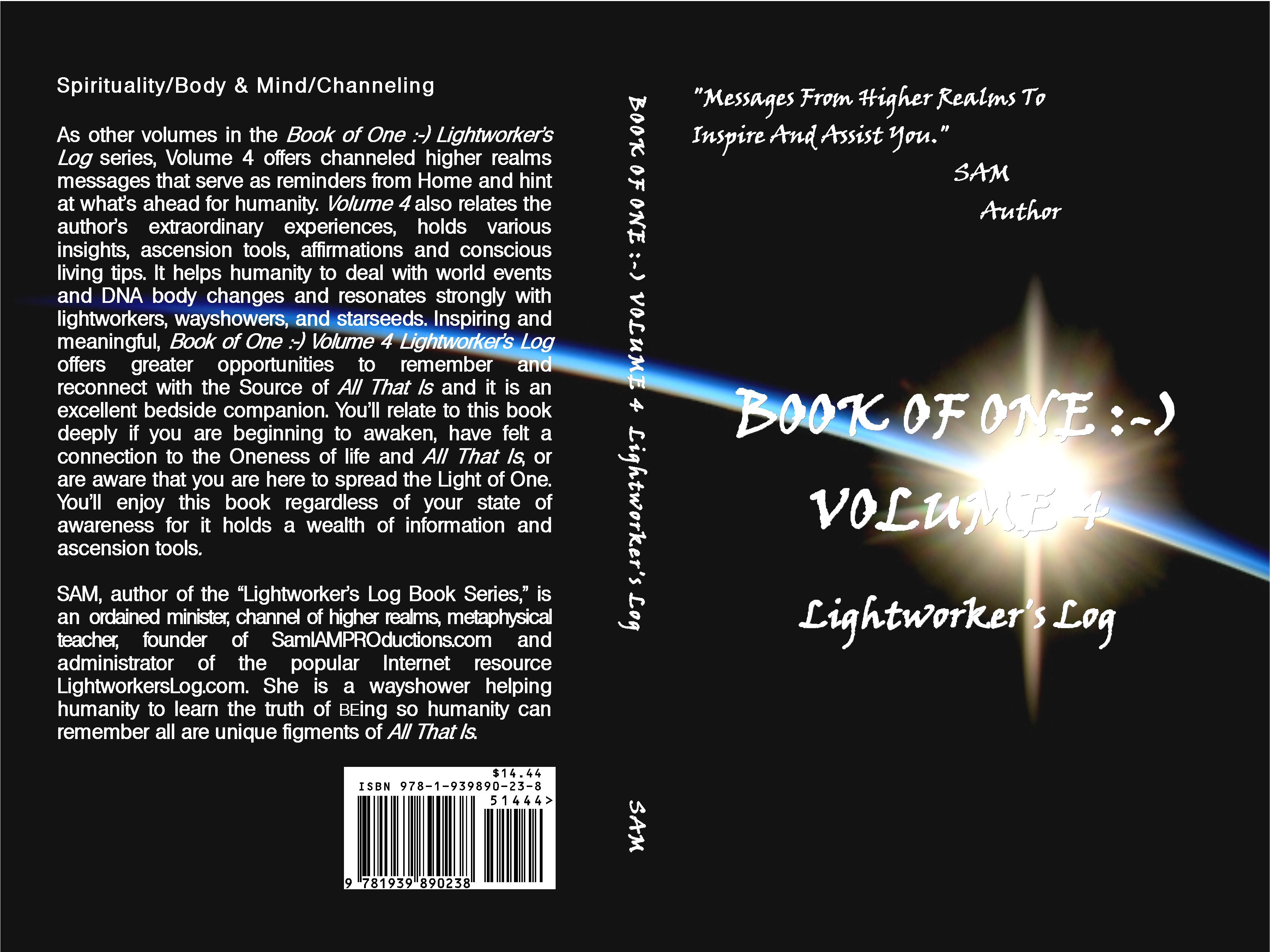 Book of One : – ) Volume 4 Lightworker's Log helps humanity to deal with world events and body changes. It holds various insights, extraordinary experiences, notes signs of body changes for those choosing to evolve with Mother Earth and offers affirmations and conscious living tips. You'll relate to this book deeply if you are beginning to awaken, have felt a connection to the Oneness of life and All That Is, or are aware that you are here to spread the Light of One. You'll enjoy this book regardless of your state of awareness for it holds a wealth of information and ascension tools.
Book Of One : – ) Volume 5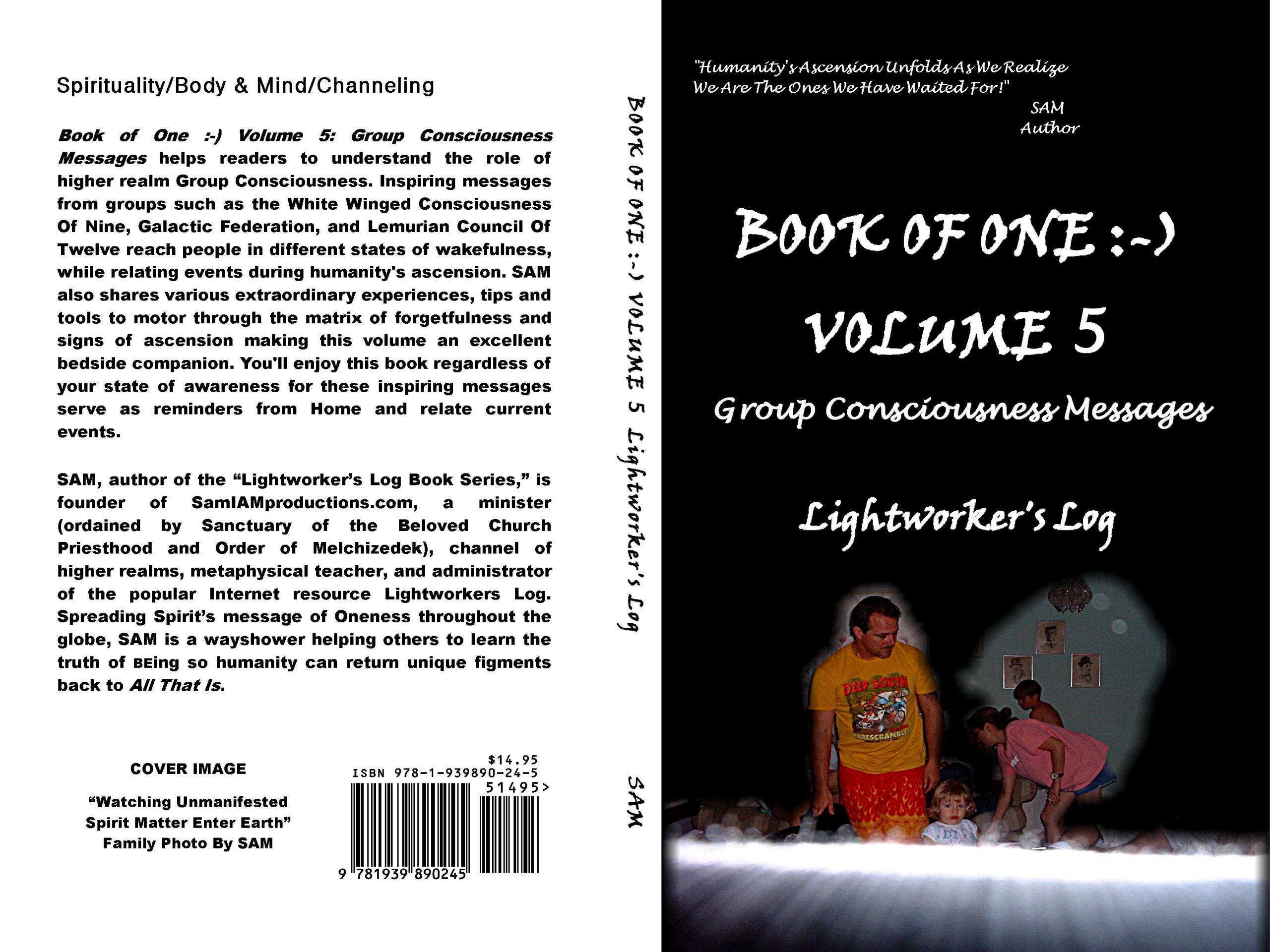 This volume,

Book of One : – ) Volume 5: Group Consciousness Messages

helps readers to understand the role of higher realm Group Consciousness in humanity's ascension. Inspiring messages from groups such as the White Winged Consciousness Of Nine, Lemurian Council Of Twelve and the Galactic Federation reach people in different states of wakefulness, while
relating earth and ethereal events during humanity's ascension

. SAM also shares

various extraordinary experiences

making this volume an excellent bedside companion. You'll enjoy this book regardless of your state of awareness for the messages within it serve as reminders from Home, relate current events, and hint at what's ahead for humanity. This volume holds an Index to make finding topics of interest much easier.
Find sales and free shipping by clicking on the Paypal Links or contacting the author directly at the Contact Page!