Tag Archives: After Death Communications…WOW
We are becoming more in tune with our True Nature of Love, of Light, of Wholeness, of Joy, of Peace and Prosperity. As you move through your day, be aware of the vast multitude of possibilities that lie before you as a member of the Whole. Humanity is but a small part of this Whole and yet it, as all parts, affects the Whole. You are much more powerful than imagined. Go forth knowing the Power you possess to change the world in all ways.
Change Your World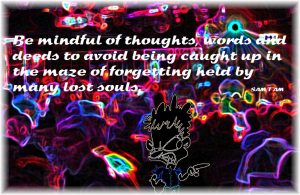 Experiences of good often increase when we concentrate on inspirational thoughts. E-mail comments and questions at the Contact Page and visit SAM I AM Productions to support your Self as we collectively move through these chaotic times. Loving You!