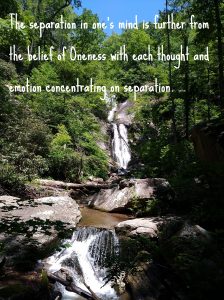 "Knowing as you do the falsities of the world, the seed of thought, of righteousness, continues. Now, vestiges of old are securely in place. We, the White Winged Consciousness of Nine, wish all to know the times before you now will be arduous at best for those continuing to believe in separation. The separation in one's mind is further from the belief of Oneness with each thought and emotion concentrating on separation. The continual process of those wanting this drama played out in your world will not unfold successfully or completely without those wishing continual drama.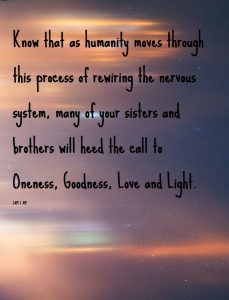 "Firing of the nervous system is an old human game. The propensity to continue firing the nervous system with added drama is at its peak. Once you know the nervous system firing is a habit; that must be changed to complete one's earth stint, for it is only through rewiring the nervous system to feed thoughts of Oneness, Goodness, Love and Light that one will return to full sovereignty in all aspects. We are assured that those within the realm of community thought are no longer interested in firing the nervous system to create chaos, and yet those continuing this habit of firing the nervous system in negative ways will continue to play the game their way, as long as they remain encased in their own thought system of old.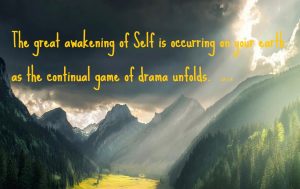 "Know that as humanity moves through this process of rewiring the nervous system, many of your sisters and brothers will heed the call to Oneness, Goodness, Love and Light. And yet, there will be those that do not, and wish to fire the nervous systems of those remaining in the thought field of separation on a continual basis as your winter months unfold. We know this may be alarming news for those wishing to end this drama of chaos and separation. But we want you to know the chaos and separation is only in the mind of those seeking the old habitual refiring of nervous systems. This game will continue for quite some time for those within this field of thought. And yet, the other field of thought of Oneness, Goodness, Love and Light rules the day and shall remain unaffected in all manner.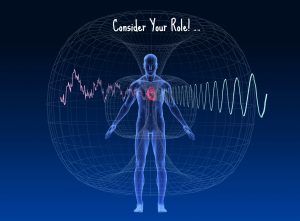 "We ask you to remember to allow all souls their choice of experience as you yourself, with the knowledge of truth, move through the chaos with grace and ease. The great awakening of Self is occurring on your earth as the continual game of drama unfolds. Asking your Higher Self to lead the way will help you through this maze of continual deceit, while those already aware and in the knowledge of Oneness lead the way. It is with the greatest respect that we ask each human, each soul, to now consider its role in these coming months. For many shall remain asleep in the dream of separation and eventually seek consult with human souls knowing the truth. As your winter months unfold, be prepared for disruptions in food and water supplies, disruptions in all manners, and keep your mind free of distractions to remain calm through the chaos.
"We, the White Winged Consciousness of Nine, wish all to know, you are loved and appreciated by higher realms as we guide those willing to step forward to lead."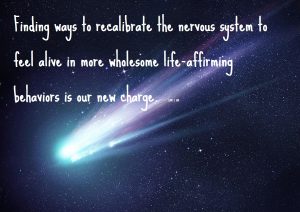 This message points out the need for retraining of the human nervous system. Anyone who has slugged down an espresso, been in a state of fight or flight, or used a drug to excite the nervous system knows that the feeling of being alive increases. And this is what much of humanity has chosen to continue, to get that rush of aliveness through separation, drama and chaos. Thorough nervous system retraining must be foremost over all other activity in order to move out of the matrix prison that humanity has sequestered itself within. And by sequestering itself within the home during the quarantine period, the nervous system will be recalibrated, once the sleigh of hand is revealed, once people understand the media and many things believed in are false. Finding ways to recalibrate the nervous system to feel alive in more wholesome life-affirming behaviors is our new charge.
Experiences of good often increase when we concentrate on inspirational thoughts. E-mail comments and questions at the Contact Page and visit SAM I AM Productions to support your Self as we collectively move through these chaotic times. Loving You!