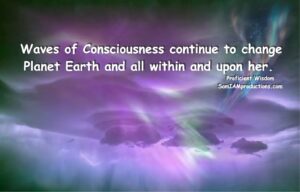 Rain storms continue at unprecedented rates. Every such purification of earth and body results in a change of frequency, which leads to the letting go of lower frequencies…. "…Remain in place as these waves of Consciousness continue to change Planet Earth and all within and upon her. It is but an easy task when one considers the Present Moment as being the only moment in Reality. As these storms pass through the area, be ever mindful of the changing energies they leave behind, energies purifying and cleansing at unprecedented rates as Consciousness continues to become known to many more seemingly separate aspects…."
There is much happening that cannot be explained nor ignored, so continue to focus on the BIGGER picture! Stay hydrated with good quality SPRING water, if you can get it, rest as needed, and eat wholesome organic foods. Consider, and play your role with intention for the highest good of ALL. I cannot stress enough the value of keeping an inspirational book in print at bedside! This is an excerpt from my latest creation, Proficient Wisdom Scratching the Surface, which holds additional guidance, support and inspiration.
This website, Lightworker's Log and published books have been solely supported by the author since 2009, and knowing the immense importance of these times the work continues. If you value the information received please consider balancing receiving and giving with a cash or gift card donation sent via postal mail to: SAM, P.O. Box 39385, Fort Lauderdale, FL 33339-9385. P.S: Sandalwood Essential Oil is on my Manifestation List (formerly known as a "Wish List").
Also consider boosting your vibrational rate with the Book of One 🙂 Series of channeled messages, the Author's Experiences of moving between frequencies/dimensions of reality, ascension tools, signs of light ascension, affirmations, and conscious living tips.
Many people are realizing that life on earth is not all it appears to be. As some people, Sharon Ann Meyer (aka SAM) became more aware of this fact upon the transition of her son. She was guided to publish a book about family power games four years later in 2008. Now guided to quickly assist humanity, as if on an unknown schedule, SAM then published a book every year for the next fifteen years. The "Lightworker's Log Book Series" unfolds as SAM reveals each step of her way to spiritual awakening. Each book in the series relates multidimensional experiences coupled with increasing awareness of greater states of the reality in which humanity functions. This multi-dimensionality can be confusing if not clearly identified as such and is now being experienced by many people at increasing rates. Her thirteenth book "After Death Communications…WOW!" consists of channeled material seeming to come after her daughter's chosen transition. The entire "Lightworker's Log Book Series" assists those who are beginning to realize there is more to life than previously thought. The series offers verification, inspiration, and timely tips to help humanity move though the Matrix to FREEDOM from limitation. Later books in the series are more in tune with those already awakened and well on the path. As of October 2023, the "Lightworker's Log Book Series" consists of the 19 books.