We are the Stewards of the Earth here to help humanity with the Shift. It is with the greatest of pleasure as we watch your world morph back to the Wholeness of Truth that it was so many eons ago.
As this process unfolds, many humans will choose to leave their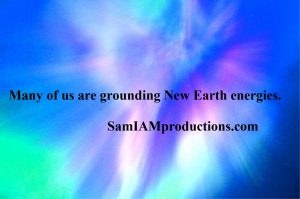 physicality. We are aware of the great change within the body of those who choose to stay. This body must be cared for with the utmost attention as you morph the DNA to is True Form for the New Earth. Listen to your body. Speak to it daily to ask what it needs and know there are no rules to follow. Each body morphs to its own tune, yet each body that remains on your New Earth will forgo this process.
We are with you to answer any questions you may have. You need only ask to receive. We are the Stewards of the New Earth here to help humanity with this process of returning to Wholeness and Truth.
Channeled by SAM
Experiences of good often increase when we concentrate on inspirational thoughts. Find more channeled messages in "Book of One 🙂 Volume 1″ available through New Leaf Distributing
, Book of One 🙂 Volume 2, and Book of One 🙂 Volume 3 OR visit SAM I AM Productions to support the author by purchasing books there and not through greedy corporations. Loving You!
Feel free to share! Visit Donations to support these types of messages and for ascension tools and resources.