Running light through the physical mind/body system is not for those yet ready to care for themselves. Each energetic boost takes one to a whole new level of lightness, of frequency, if you will. With each burst of the sun, with each movement of planetary consciousness, with each move of earthy realms coalescing with the higher realms, we are building lighter, higher frequency bodies. This is not for the weak of heart or body. And those unable to withstand the now constant onslaught of higher realms energies will leave the planet en masse. They will leave the planet though a variety of means, body dysfunctions, medical mishaps, suicide, natural disasters and terrorist attacks. All those with a weak body and mind will leave as these energies continue to bombard the planet.
It is essential to care for oneself. Drink plenty of good quality water (if you can get it); eat lighter foods and meals; abstain from tobacco, excessive alcohol consumption; and negative energies. Keep your living space free of clutter and disarray and know the higher realms are here to assist all those ready to move forward with this new earth game (never before played on any planet, time or realm of space).
Know the one you seek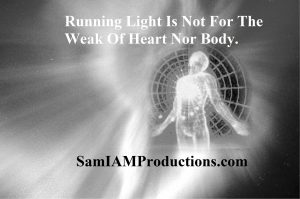 lies within you and is now coming forth to lead the way to freedom from the self-imposed enslavement humanity brought on itself by taking on denser and denser forms.
The time is now. Be ready to make the change or in coming years leave the planet to play on other realms until ready to return to Oneness in all aspects.
Consider Ascension Tools & Resources To Support Your Spiritual Growth.
Experiences of good often increase when we concentrate on inspirational thoughts. Find more channeled messages in "Book of One 🙂 Volume 1″ available through New Leaf Distributing at , Book of One 🙂 Volume 2 OR visit SAM I AM Productions to support the author by purchasing books there and not through greedy corporations. Loving You!