"The world is changing quickly as these energies coalesce to greater realities, a cleaner earth. Each new soar of energy creates a new wave of consciousness for those ready and willing to share this thought-form. These thought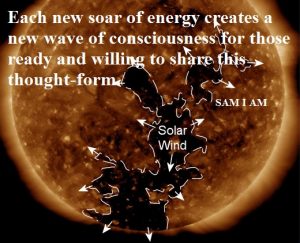 forms increase the consciousness of humanity, one wave at a time. Each wave continues to radiate out into the field of consciousness affecting not only your earth but other realms of consciousness as well.
"We are the White-Winged Consciousness Of Nine and we are here to help all become one in all aspects again, in all states of mind, for all ready and willing to do so. We leave you with this thought:
"How will you change your life as these thought-forms permeate your earth with the Love, with the happiness, with the health, with all that is good in your realm?"
"As above, so below will be done in your world now as you move though these shifts (of consciousness). Watch all as an aspect of self, clearing, transmuting, and cleansing all that does not belong in the 5D realm of reality. As you and others move though these shifts, this will be done."
Experiences of good often increase when we concentrate on inspirational thoughts. Find more channeled messages in "Book of One 🙂 Volume 1″ available through New Leaf Distributing at , Book of One 🙂 Volume 2, and Book of One 🙂 Volume 3 OR visit SAM I AM Productions to support the author by purchasing books there and not through greedy corporations. Loving You!