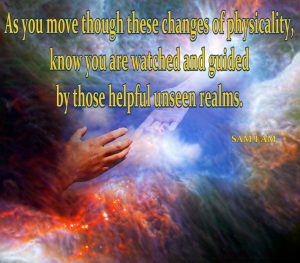 "As you move though these changes of physicality, know you are watched and guided by those helpful unseen realms. We are with you as you awaken to meet your chosen day. We are with you as you choose to move through that day filled with love or fear. And we know you shall always reap the experience you alone choose to experience. We ask you to consider the best possible choice for the growth of your soul.
"Yes, we are aware that many do not believe in the birth and death of soul thought-forms, for various reasons, but we ask that you become aware that there are always choices to make as long as you seem to be a body in form on earth.
"The vast changes before humanity now coalesce into a mix of ecstasy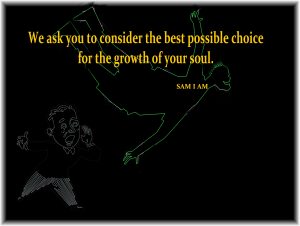 and agony as all becomes aware, you are not alone in any sense of the word. We are with you as you move though these vast changes and we ask you to consider, 'Will I achieve the soul's growth?'
"We are the Souls Of One here to convey this vital message to all who care to listen. The Souls Of One are a conglomeration of all souls chosen to be in earth form for the purpose of extending the knowledge of Oneness throughout humanity and the Cosmos. We too shall dissipate as all thought-forms merge at the end of time."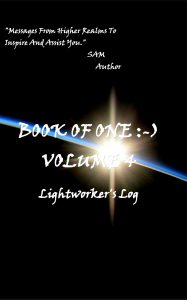 Experiences of good often increase when we concentrate on inspirational thoughts. Introducing Volume 4!  Pre-publication sales through the author get a bonus of "Prayer Treatments: Lightworker's Log" with each order. E-mail me at Page 2 for details and free shipping. Find more channeled messages in "Book of One 🙂 Volume 1″ available through New Leaf Distributing, Book of One 🙂 Volume 2, and Book of One 🙂 Volume 3 OR visit SAM I AM Productions to support the author by purchasing books there and not through greedy corporations. Loving You!