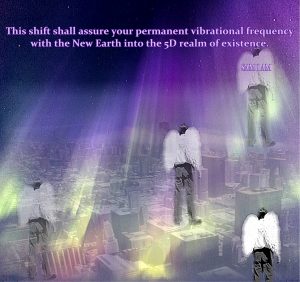 "Relish in these energies as earth continues to change. We the Lemurian Council of Twelve are with humanity, watching, waiting for those ready to make the next shift. This shift shall assure your permanent vibrational frequency with the New Earth into the 5D realm of existence.
"We are with you as you move through your world and we ask that you continue to move through these frequencies of Light carefully to assure your safe journey to the other side of BEing. This is not a state in which many of your people currently exist but one reserved for those ready to move into the class of Oneness once again.
"Assure your safe arrival by knowing, you are one with each person you relate with; each person you come in contact with holds a key for your further awakening to this class of consciousness. Pay attention to your cluesto move into this state of BEing. Pay attention to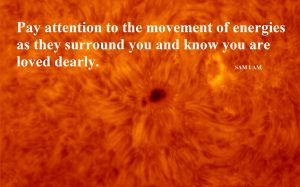 the movement of energies as they surround you and know you are loved dearly. You are now moving forward as all unseen realms continue to cheer you on. You are becoming One once again and we applaud this supreme effort of will to again meet those parts of your Self left behind so many eons ago.
"We are the Lemurian Council of Twelve are here to assist as all watch and cheer."
Experiences of good often increase when we concentrate on inspirational thoughts. Find more channeled messages in "Book of One 🙂 Volume 1″ available through New Leaf Distributing at , Book of One 🙂 Volume 2 OR visit SAM I AM Productions to support the author by purchasing books there and not through greedy corporations. Loving You!