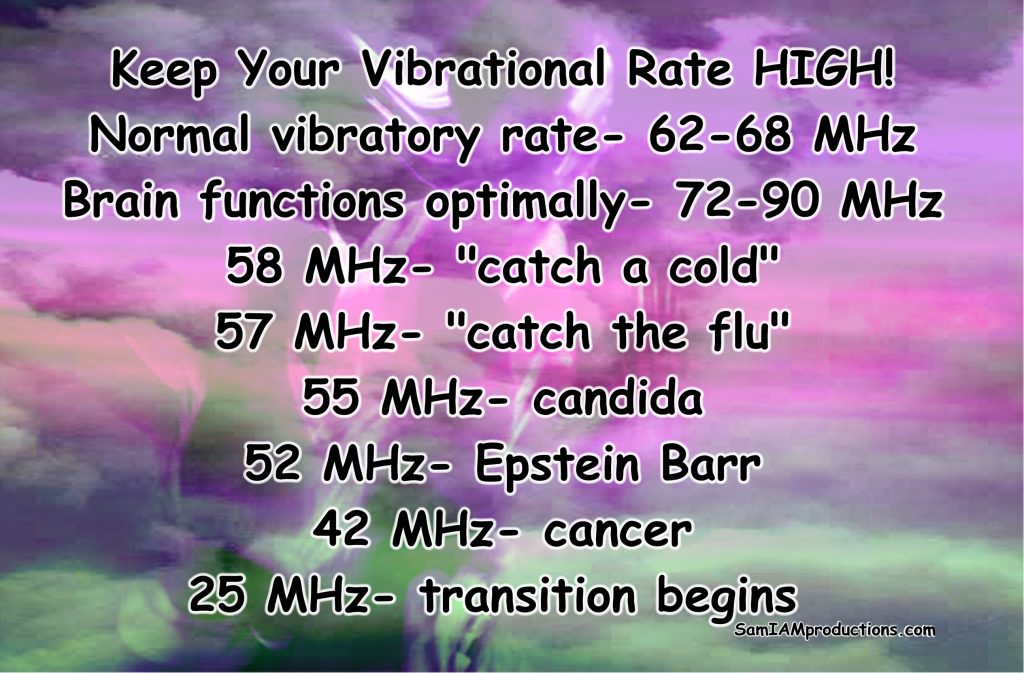 Anyone with half a brain can tell you this world is out of control, with ever-changing concepts and persuasions meant to direct mass consciousness into a frenzy of fear and control. But wait, there's a much bigger picture to be seen, one beyond the false illusion of masking one's face to mask the True Self. But I'm getting ahead of myself…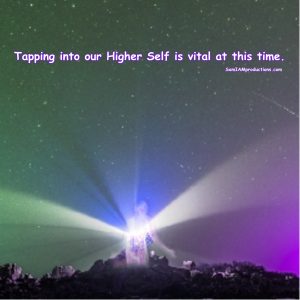 As a multidimensional human with the ability to see numerous timelines, I can say, for me, the bottom line, as many know, is that it only matters in matter and, lo and behold, humanity's True Reality is way beyond the confines of earth life. That being said, it's important to play the earth game while seeming to be here, following clues offered by our soul, for those astute enough to tap into those clues, and to be aware of a bigger picture than what mass consciousness seems to believe. For each reaction, each emotion and each thought plays a role in maintaining, raising or lowering the body's vibrational rate.
For review, a high vibrational rate helps one to avoid illness and falling prey to the whims of other people. Our normal vibratory rate is between 62-68 MHz and our brain functions optimally between 72-90 MHz, which some of us are able to maintain, if for only short periods. When the body vibration lowers to 58 MHz it can "catch a cold"; at 57 MHz the flu; 55 MHz candida, 52 MHz Epstein Barr; 42 MHz cancer and at 25 MHz transition begins. So we can see how vital it is to avoid anything that lowers the body's vibrational rate, from negative thoughts such as fear, to tests and medical treatments, to hypoxia from stemming the flow of oxygen to our body, etc.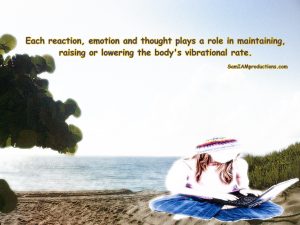 One of the best ways to positively manipulate our own vibrational rate is by maintaining neutrality, knowing we are much more than this limited human form. We can further raise and keep our vibrational rate high by being creative, joking, singing, dancing, avoiding mainstream media and watching comedies instead, getting out into nature to ground, etc.
For me, it seems important to know the possibilities, which may affect my ability to secure food and water or maintain a stable living situation. Being able to tap into my own network to alert me of global and local possibilities comes easily while maintaining a high vibrational rate, and this blessing is unmatched by any other.
Tapping into our Higher Self is vital at this time. For those with higher vibrational rates, it's good to know we can do this easily by placing our hands on our heart, maintaining silence and asking for guidance throughout the day.
SAM I AM (and YOU are too!)
Consider an inspiring bedside companion such as Book Of One 🙂 Volume 2