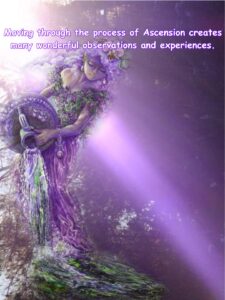 Moving through the process of Ascension creates many wonderful observations and experiences that many people may not be aware of in an unawakened state. Let me just say that the process has been unfolding in an increasingly wondrous manner for me over the past nearly twenty years and now, thank goodness, it is being recognized for what it is, a changing state of consciousness more in tune with our True Nature.
As I continue to move through this process it is clear that what I focus on becomes my so-called waking experience, and what I experience during times when not sleeping is processed by my brain during sleeping hours. During dream time everything is a mesh-mash of experience coupled with higher realm messages and experience of my very own soul on this and other planes of consciousness. And even knowing it is only my own thought forms created by a human seeming in physical form, I am most grateful for those thought forms that guide and support me in what can only be referred to as miraculous ways.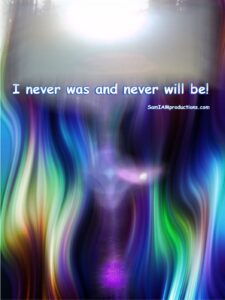 For instance, within days of my son's passing I began to hear him and we were able to converse in much the same way as if he stood before me in physical form. We seemed to have so very many experiences together, some of which are explained in my first two books. One of the first things he told me was at that time totally unbelievable: "Mom, I never was and never will be," that's it, that is all he said. So, for many days turning into months the same thought entered by brain until I finally recognized the truth of this message. Following what seemed to be his guidance I began "Science of Mind" classes, moving on to join other groups and finally landing or should I say soaring as a member of the Theosophical Society.
Yesterday, upon reading an occult book (occult merely means unseen world) I came upon a phrase that floored me because it was one of many, many things I know now to be true, things that came to me without any teachings or readings of books. Find the phrase in The DIALOGUES of G. de Purucker, Conversations between Teacher and Students on Genuine Theosophical Occultism, VOLUME 1. It notes:
"So a human being comes to Earth, is born a child, lives his life, makes his gestures, has his aspirations, his hopes and his hates, and so forth, and finally disappears and we say he is 'dead.' Do you suppose that man began when he was born and ends when he dies? That is contrary to all our teaching. As a Monadic Essence he never had a beginning and never will have an end; and the elemental in its evolutionary stage called a thought, follows the same rule…."
How perfect is that to get confirmation, although none was needed, of something that seemed to come from a dead son seventeen years ago?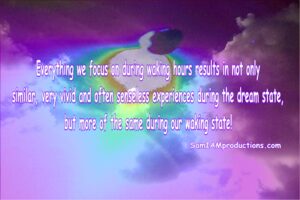 The key points of today's message is:
#1. Everything we focus on during waking hours results in not only similar, very vivid and often senseless experiences during the dream state, but more of the same during our waking state!
#2. As humans we are here to experience and express uniquely, but we are in essence spiritual beings that never die. To say this in another way, we are focused consciousness and the result of all previous experiences and expressions, and it is time to clear the stream of our consciousness to enable a clear transition to Knowing and Being rather that seeking and doing.
~ ~ ~
"All thought must, directly or indirectly, by way of certain characters, relate ultimately to intuitions, and therefore, with us, to sensibility, because in no other way can an object be given to us."
Immanuel Kant (1724–1804), German philosopher. Critique of Pure Reason, "Transcendental Doctrine of Elements: Introduction to Transcendental Aesthetics," A.20/B.34 (1781).
Support your Self or a loved one by purchasing an inspiring bedside companion. Many multidimensional experiences are documented throughout the "Lightworker's Log Book Series".
Many people are realizing that life on earth is not all it appears to be. As some people, Sharon Ann Meyer (aka SAM) became more aware of this fact upon the transition of her son. She was guided to publish a book about family power games four years later in 2008. Now guided to quickly assist humanity, as if on an unknown schedule, SAM then published a book every year for the next fifteen years. The "Lightworker's Log Book Series" unfolds as SAM reveals each step of her way to spiritual awakening. Each book in the series relates multidimensional experiences coupled with increasing awareness of greater states of the reality in which humanity functions. This multi-dimensionality can be confusing if not clearly identified as such and is now being experienced by many people at increasing rates. Her thirteenth book "After Death Communications…WOW!" consists of channeled material seeming to come after her daughter's chosen transition.
The entire "Lightworker's Log Book Series" assists those who are beginning to realize there is more to life than previously thought. The series offers verification, inspiration, and timely tips to help humanity move though the Matrix to FREEDOM from limitation. Later books in the series are more in tune with those already awakened and well on the path. As of October 2023, the "Lightworker's Log Book Series" consists of the 18 books noted below.
The End of My Soap Opera Life 🙂 Book One: Death of the Sun
Book Two: A Change in Perception
Lightworker's Log 🙂 Transformation
Manifesting: Lightworker's Log
Return to Light: John of God Helps
After Death Communications…WOW!
Multidimensional Living: Moving Beyond Astral Adventures
Proficient Wisdom Scratching The Surface: Lightworker's Log
Prayer Treatments: Lightworker's Log
Adventures in Greece and Turkey
---
We are each a piece of the matrix puzzle and upon sharing open up possibilities to meet and compare notes with similar minds to boost the frequency of everything and everyone. Consider and play your role with intention for the highest good of ALL.