"Let's discuss distractions today, shall we? As mom channels this, she is dealing with the distractions of street traffic, a small dog barking, and people talking periodically. This is the state humanity now finds its self in, dealing with distractions as it tries to recognize the true state of affairs on many different levels.
"I'd like to report that this will improve very quickly but, alas, it will not. And that is one reason many of the new souls are coming to earth at this time. That is the reason many older souls are finding themselves in the odd situations they now find themselves in. The reason for these distractions is to help both new and old souls to concentrate amid increasing distractions.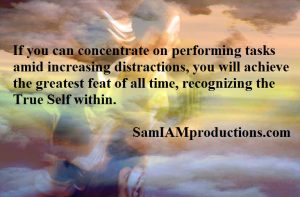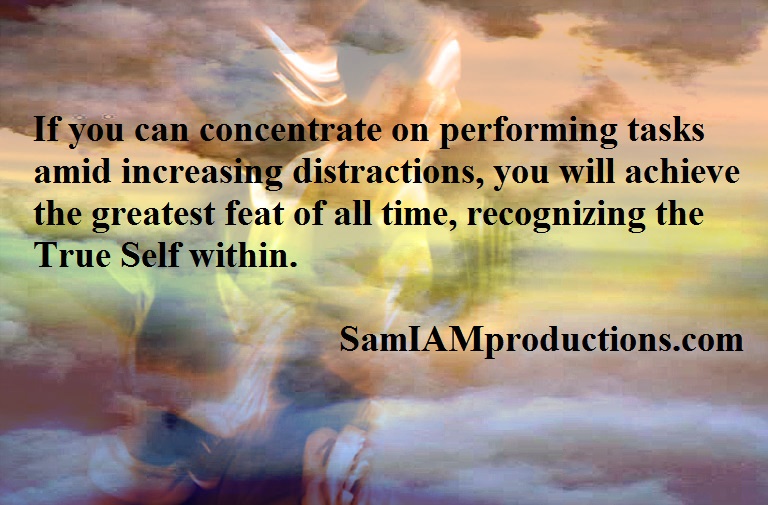 "If you can concentrate on performing tasks amid increasing distractions, you will achieve the greatest feat of all time, recognizing the True Self within. It is this True Self that is being kept at bay by not only those that chose as souls to not recognize it but also by those souls who came in to distract other souls from recognizing the true nature of humanity and thus ending the earth game.
"Yes, we are again discussing the end of the earth game as humanity knows it. This will be achieved by those souls who learn to perform amid distractions. So when you find yourself distracted by family, by friends, by world events, by every little thing, know that these distractions are helping you to stop and become more in tune with your own vibrational rate.
"Once you become in tune with your own vibrational rate you are better able to recognize that rate when distractions occur and hone it to perfection. By recognizing distractions for what they are, ploys to keep you from tuning into your True Self, you are better able to be that True Self on a more consistent basis.
"WOW out"
Consider "After Death, Communications…WOW!" Find it only at: Support Your Higher Self!
Support those who support you. It is as simple as that. Experiences of good often increase when we concentrate on inspirational thoughts. Comments, questions and suggestions welcome at the Contact Page.~Support your Self by purchasing an inspiring bedside companion. Introducing Book Of One 🙂 Lightworker's Log Volume 4!~Visit SAM I AM Productions to support your Self and the author by purchasing books there and not through greedy corporations. Loving You!
Find other resources at SAM Of Light on Facebook.