Enjoy this Book Of One : – ) Volume 6 excerpt!
"Know that as things continue to come into focus on your earth, perceptions and triggers continue to change to more closely match those holding the consciousness of Oneness and Light. As your awareness continues to come into the focus of Oneness, through the chaos of separation, the perceptions of old ways will continue to fall by the wayside.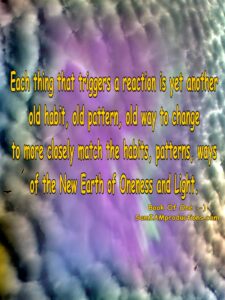 "It is with the …  through the maze of deceit now covering your earth in a density never experienced before, which shall never be experienced again. …  perceptions and triggers, for each thing that triggers a reaction is yet another old habit, old pattern, old way to change to more closely match the habits, patterns, ways of the New Earth of Oneness and Light.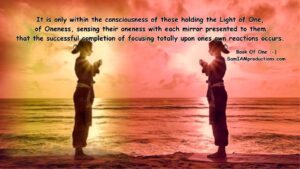 "As all upon the earth continue to be triggered by unheard of, never before experienced occurrences, it is always in the best interest to remain within ones own field of consciousness, for many shall not remain upon the earth due to their inability to change their ways of old …  reactions occurs.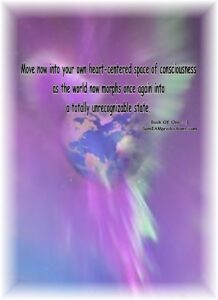 "As these waves of consciousness continue to match the chaotic events upon earth…   for each holds its own state of awareness upon this beloved earth. Move now into your own heart-centered space of consciousness as the world now morphs once again into a totally unrecognizable state for all upon and within her.
"It is not for one to judge the reactions, the triggers, nor the experiences and expressions of another; it is only for one to…."
Maintaining the higher frequency to continue channeling was fun, not, as the garbage man repeatedly tried to empty the large garbage bin making much more noise than ever before on this Tuesday morning.
Yesterday was another day where…
Along with continuing chaos comes chaotic energies via the usual culprits such as geomagnetic activity, planetary changes, etc. I must determine what planet controls the ….
Support your Self, a loved one or a friend by purchasing an inspiring bedside companion. Remember, a physical book in your hand cannot be erased digitally and is easier on the eyes and soul than gadgets.