Enjoy this Book Of One : – ) Volume 6 excerpt!
"As souls, many of humanity chose to do without 'independent counsel' when living in the midst of chaos. It is this foregoing, alleviating if you will outside interference, that one cannot tap into the treasures of higher frequencies. Not sacrificing 'independent counsel' allows those living in the midst of chaos to know that all, as it seems, is not real.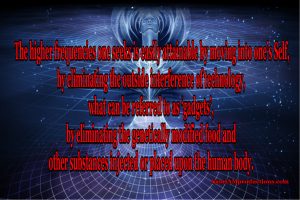 " 'Independent counsel' is a term we use to define those advisors that are not dependant upon a living. 'Independent counsel' is defined as those that are not dependent upon the forces controlling humanity at this point in time. 'Independent counsel' is defined as those who chose as souls to not move with the flow of mass consciousness wrapped up in a hypnotic hysteria created by media, controlled by the few controlling the many. Those outside of this interference with common choices of living now move forward in their soul's quest to assure that humanity is not stuck in a never ending cycle of misuse and abuse of power.
"Those seeking 'independent counsel' must remain within their own state of consciousness, which can be a difficult thing to do when one is immersed in the technocratic ways of the world today. Dependence upon what may be referred to as 'gadgets' controlling the moving mind by constant interaction is now held by many within your earth's atmosphere. This constant attention is based upon a need to seek outside one's Self, one's Self that can be tapped into by moving into higher frequencies, higher states, greater states of awareness. We cannot, … it is a state of awareness created by not seeking outside one's Self, by maintaining a vibrational level that is not affected by outside interference such as what you may refer to as perhaps genetically modified, processed so-called foods, altered water, and other sources that continue to lower the ability of humanity to reach those higher frequencies it is their God given right to reach.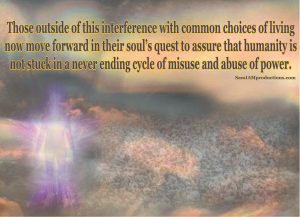 "We end this message with help for those not caught up in the midst of chaos. The higher frequencies one seeks is easily attainable by moving into one's Self, by eliminating the outside interference of technology, what can be referred to as 'gadgets', by eliminating the genetically modified food and other substances injected or placed upon the human body.
"It is … . … to humanity as a God given right of one's very own experience and expression as a soul living in human form.
"We are known to the channel as the White Winged Consciousness of Nine, an aspect of this soul's very own higher states of awareness experienced and expressed in other frequencies within the illusory game of human life."