The End Of My Soap Opera Life 🙂 Book One: Death Of The Sun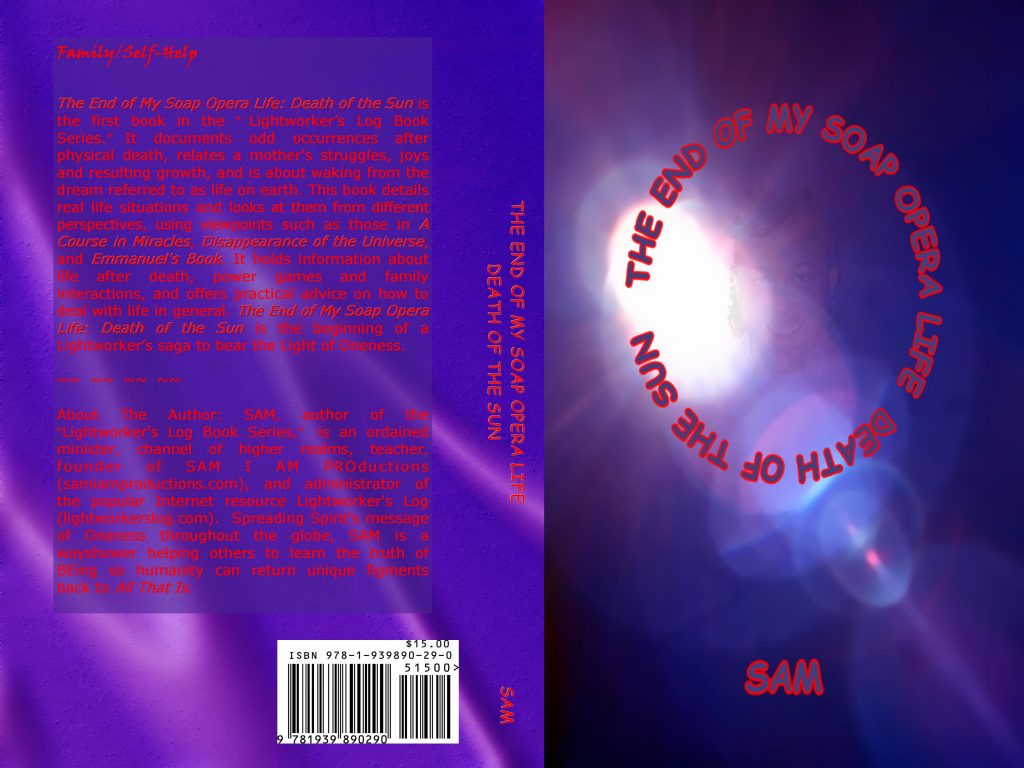 ---
"Death Of The Sun ~ Book 1" By SAM.
The End of my Soap Opera Life: Death of the Sun
---
Description: Death Of The Sun is the first book in the "Lightworker's Log Book Series," the beginning of a lightworker's journey to Christ Consciousness, through loss of a child, limitation and separation. It documents odd occurrences after physical death, relates a bereaved mother's struggles, joys and resulting growth, and is about waking from the dream referred to as life on earth. This book relates real life situations of death, illness, and separation, looking at them from different perspectives such as those in A Course in Miracles, Disappearance of the Universe, and Emmanuel's Book. It holds information about life after death, power games and family interactions, and offers practical advice on how to deal with life in general. This book is the beginning of a Lightworker's saga to bear the Light of Oneness.
Editorial Review: "Death Of The Sun is the perfect book for those searching for meaning while dealing with explosive family interactions, death and illness. Readers learn of new ways to deal with grief and family interactions to help them raise their vibrational rate and take life to greater levels of awareness. This book is the perfect read for those still experiencing family dramas, grief through loss of loved ones, and illness. Learn new practical ways to deal with ongoing dramas while reading of the saga of a beginning lightworker to bear the Light of One."
About the Author: SAM's compelling journey of rising from the Detroit projects to living on her own at fifteen led to the realization that there must be more to life. A near-death experience at age sixteen helped to spur interest in the unseen world. Since that time, SAM has aggressively searched for answers to questions asked throughout the ages. The awareness that we are spirits, in human form having a physical experience, came after her son's transition on April 4, 2004. Her quest for self-mastery began in 2005 when his essence led her through the doors of an establishment teaching the Science of Mind. SAM's inspiring life demonstrates the strength of Mind over matter. It's a story of progression from desperation to hope, poverty to riches, limitation to freedom, and fear to Love.
SAM turned her back on traditional medicine after decades of illness and multiple surgeries. Using Eastern medicine, and the teachings of Ernest Holmes, she successfully rid herself of many maladies.
SAM's life experience covers a wide range of titles from founder of HIV ReSources to founder of SAM I AM PROductions. Involved in the nutritional aspects of hiv/aids care from 1988 to 2008, she is a strong advocate of human rights and nutritional services. SAM served the public and private sector by volunteering in a variety of Federal, State and County positions. She authored and co-authored numerous articles on nutrition and hiv/aids, was the Nutrition Editor for NUMEDX HIV and NUMEDX Hepatitis, and co-authored HIV Medications Food Interactions (And So Much More).
SAM's "Lightworkers Log Book Series" is a personal account highlighting the process of one Lightworkers awakening. It begins with The End Of My Soap Opera Life 🙂 Book One: Death Of The Sun and, as of June 2020, extends to Book Of One 🙂 Volume 5. SAM is an ordained minister, channel of higher realms, teacher, and administrator of the popular Internet resource, Lightworker's Log. Spreading Spirits message of Oneness throughout the globe, SAM is a wayshower helping others to learn the truth of BEing so humanity can return unique figments back to All That Is.
Reviews:  "I am reading your book right now. Stories are what always give me hope. When I read about how someone overcomes the issues in their life and uses them as stepping stones to Christ consciousness, it inspires me. Thank you for sharing! Honesty and openness are two virtues I love!" Glenda F.
Support your Self or a loved one by purchasing an inspiring bedside companion. The paypal account has been closed. Comments, questions and suggestions welcome at the Contact Page. Send inquires or donations to SAM, P.O. Box 39385, Fort Lauderdale, FL 33339-9385.
---