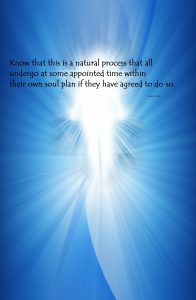 Your world is amassing great quantities of light; one needs to know what to do with this process. In the beginning when souls were young, the form they held was of pure light, consciousness in action, and all was ethereal, air of little substance, if you will. As time went on the need to experience greater quantities of light and lesser quantities of ethereal matter made it necessary for souls to eliminate the light held, little by little, bit by bit until the now human held form was achieved. As the world continues to spin out of control for many unaware of the true reasons, a return to the star being from which it came, so too does the human form spin, weave its essence to now take on more light and let go of the density it holds, little by little, bit by bit. This great achievement will not come to fruition in your lifetime, to return to the original ethereal form, but it will take on less density of substance and more light.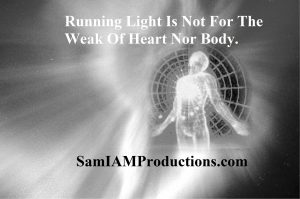 As this occurs, one must remember to treat the body with the utmost respect, less food and food of lesser density, whole food of original substance and not the food many eat today, having been geo ENGINE ered, or meat. All nuts, seeds, fruits, vegetables are more more acceptable to the light form as is the pure water many now drink. The rest required for this body change is very much increased as well as each nerve fiber holds, retains, and then lets go of the very DNA substance it was born with to replace it with adamintine particles of light. Each nerve, tissue, fluid, organ , every body cell requires a change in density to take on these substances of light and as each is replaced, the changes created require rest and adequate fluid. Let no one be known to forget the arduous task the human form underwent to move into greater density, but recall this process, now reversing, will require a less arduous process, but what many refer to as bothersome at best.
We the White Winged Consciousness of Nine leave you with this knowledge as you move through your first process of awakening, by realizing the very Power each human holds and taking it back to mold the New Earth with your own Power.
Support your Self or a Loved One
with an inspiring book.
Support those who support you. It is as simple as that. Comments, questions and suggestions welcome at the  Contact Page. Support your Self by purchasing an inspiring  bedside companion. Visit SAM I AM  Productions  to support your Self and the author by purchasing books there and not through greedy corporations. Loving You!
Return To Lightworker's Log Main Page