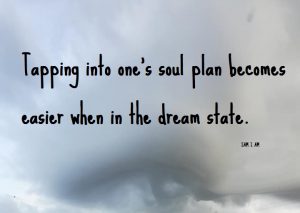 Tapping into one's soul plan becomes easier when in the dream state. To acknowledge soul's needs and desires, pay attention to dreams of a somewhat physical nature. In other words, pay attention to dreams in which you may feel threatened or forced into doing something you do not wish to do; pay attention to dreams where you seem to teach or lecture others and be aware that it is yourself bleeding though to relate a long forgotten soul tool in other lives. This is the way to become fully into soul at all times, by remaining asleep while awake and dreaming the circumstances you wish to participate in while asleep.
This will make more sense to you as you tap further in to soul purpose and meaning.
Experiences of good often increase when we concentrate on inspirational thoughts. E-mail comments and questions at the Contact Page and visit SAM I AM Productions to support your Self as we collectively move through these chaotic times. Loving You!