Enjoy this Book Of One : – ) Volume 5 excerpt!: "Wisdom and consciousness are rarely exhibited upon earth in the Present Moment, but this is changing rapidly as many on earth relate their experiences of Love and Light, for it is only through relation of these seeming non-physical experiences that one may motor through the matrix of illusion to the Void of Oneness and Truth.
"All aspects of humanity now undergo great change as planetary and cosmic events affect their very fabric of being. All aspects of Oneness now play a role in returning all back to the consciousness of One, without separation. Non-judgment is the key to Oneness as earth days and nights fill with duality. Know that higher realm assistance is always available for those wishing to rise above the turmoil of duality, for it is only by remaining neutral that one may leave the illusion of time and space to play on other realms of consciousness. Many souls have allowed themselves to become mired in the duality of power and weakness, of love and hate, of lack and abundance and it is these souls who now awaken to the truth of Oneness, or leave the planet.
"We do not wish to alarm you, but those not adhering to the love of self and all aspects seen, heard, or sensed will become extinct on your earth. It is with the greatest respect that we your Sisters and Brothers of Light ask all to pay attention to dreamless states of consciousness, for that is where one taps into the presence of Source. All other states of dream time can be discarded for they merely keep souls in the illusion of separation.
"As all things on earth continue to change at a rapid rate, those holding the aspects of non-judgment, shall carry their vibrations beyond the confines of earth consciousness."
There is much happening that cannot be explained, nor ignored, so continue to focus on the BIGGER picture! Stay hydrated with good quality SPRING water, if you can get it, rest as needed, and eat wholesome organic foods. Consider, and play your role with intention for the highest good of ALL.
This website, Lightworker's Log and published books have been solely supported by the author since 2009. This mission has resulted in a gross disruption in living circumstances, but knowing the immense importance of these times the work continues, albeit while now living in what many may refer to as "the belly of the beast," and yet protected and continually guided. If you value the information received please consider balancing receiving and giving with a cash or gift card donation sent via postal mail to: SAM, P.O. Box 39385, Fort Lauderdale, FL 33339-9385. P.S: Amber, Myrrh, and Sandalwood Essential Oil are on my Manifestation List (formerly known as a "Wish List")
Remember, a physical book in hand cannot be erased digitally, does NOT erupt harmful microwaves, and is easier on the eyes and soul than gadgets.
Inspiring and meaningful, The Book of One : – ) Series holds channeled messages, the Author's Experiences of higher realms and moving between dimensions of reality, ascension tools, ascension symptoms, affirmations, and conscious living tips to move through daily life. Inspire yourself today with a perfect bedside companion. As of Fall 2023 the Book of One : – ) Series consists of 6 books: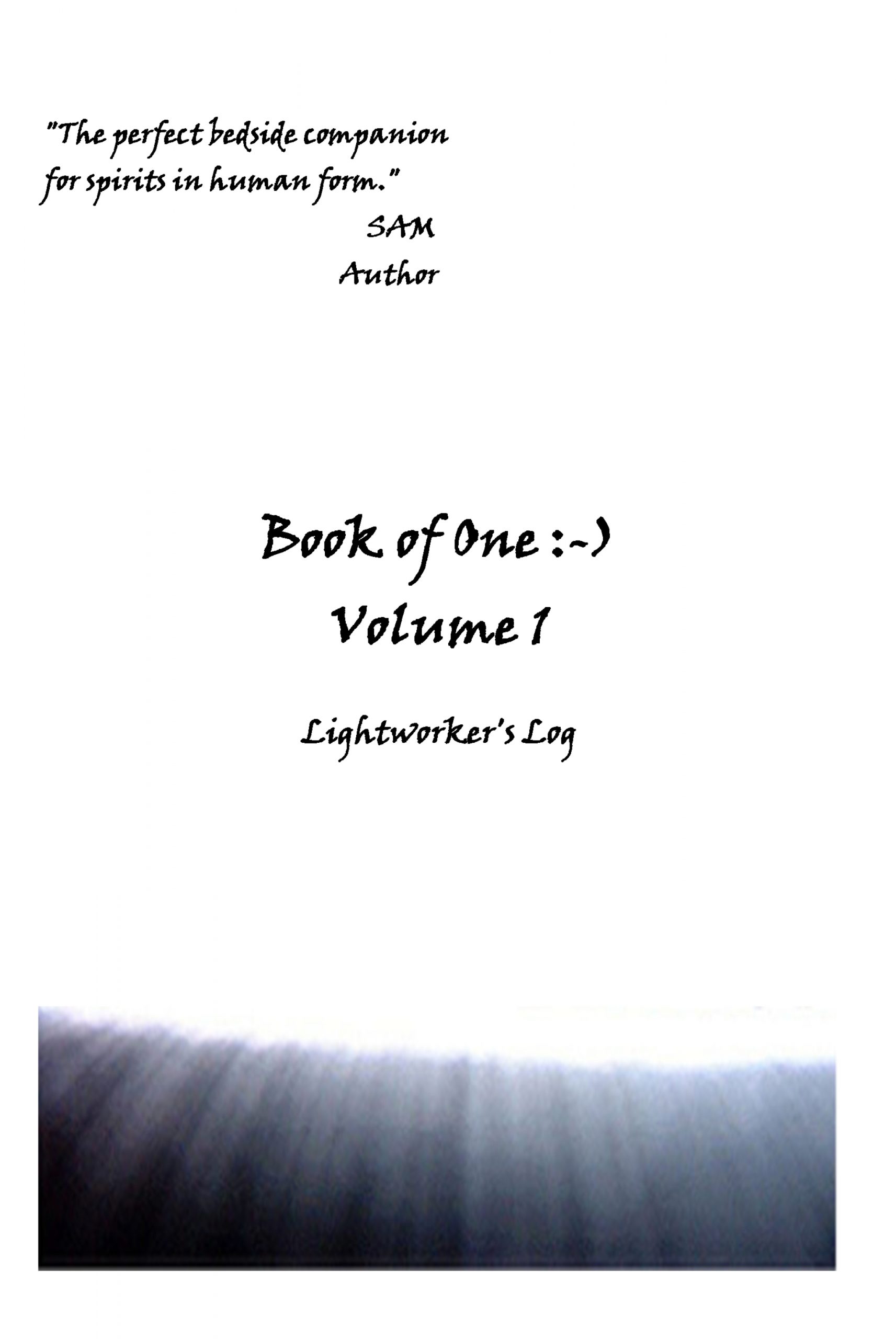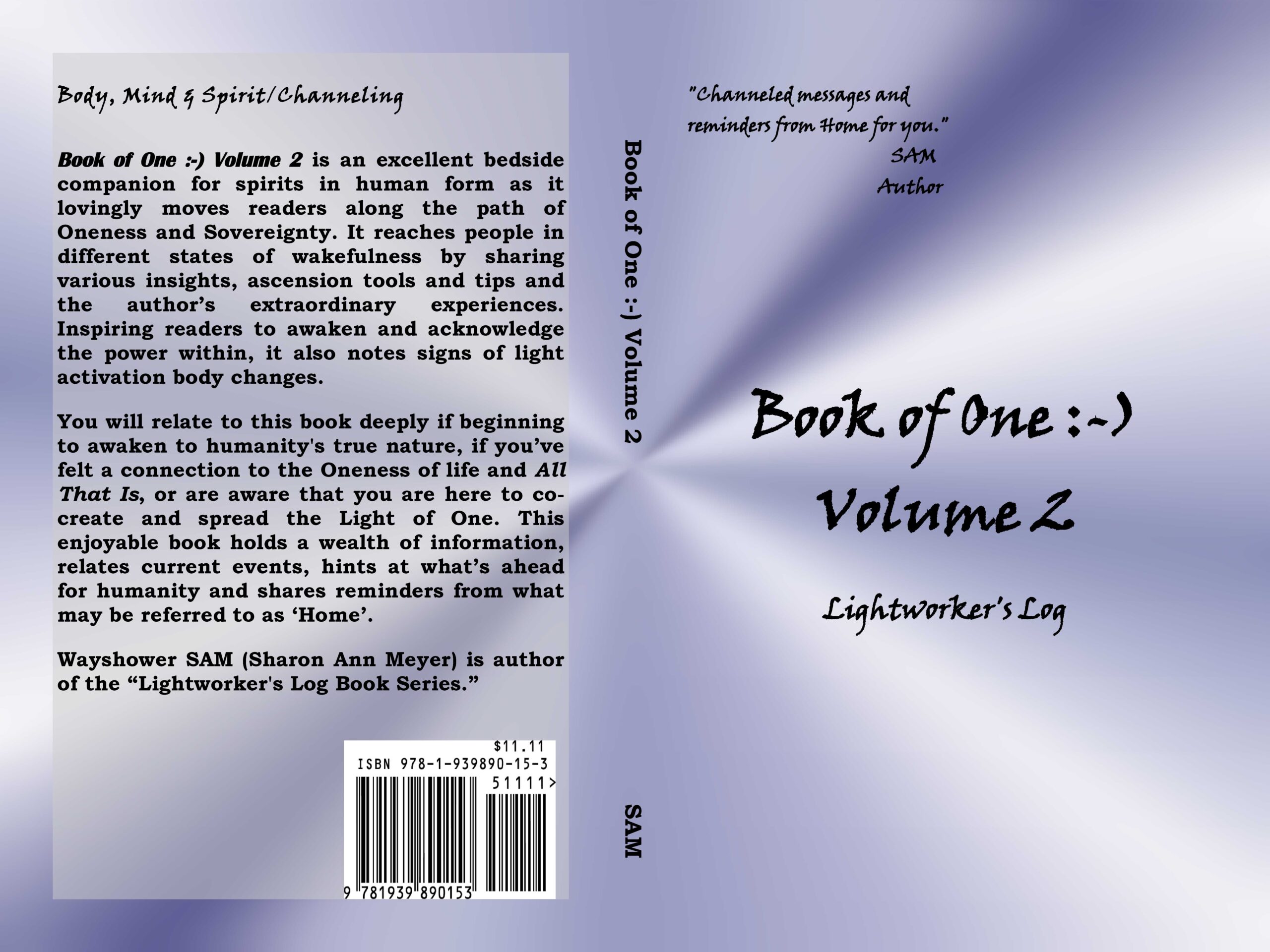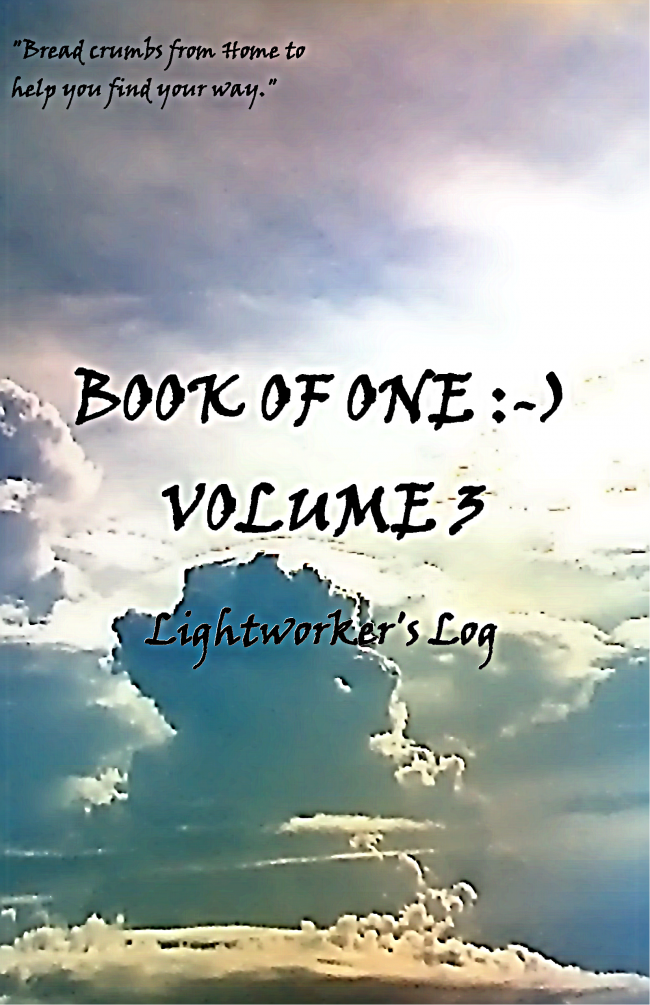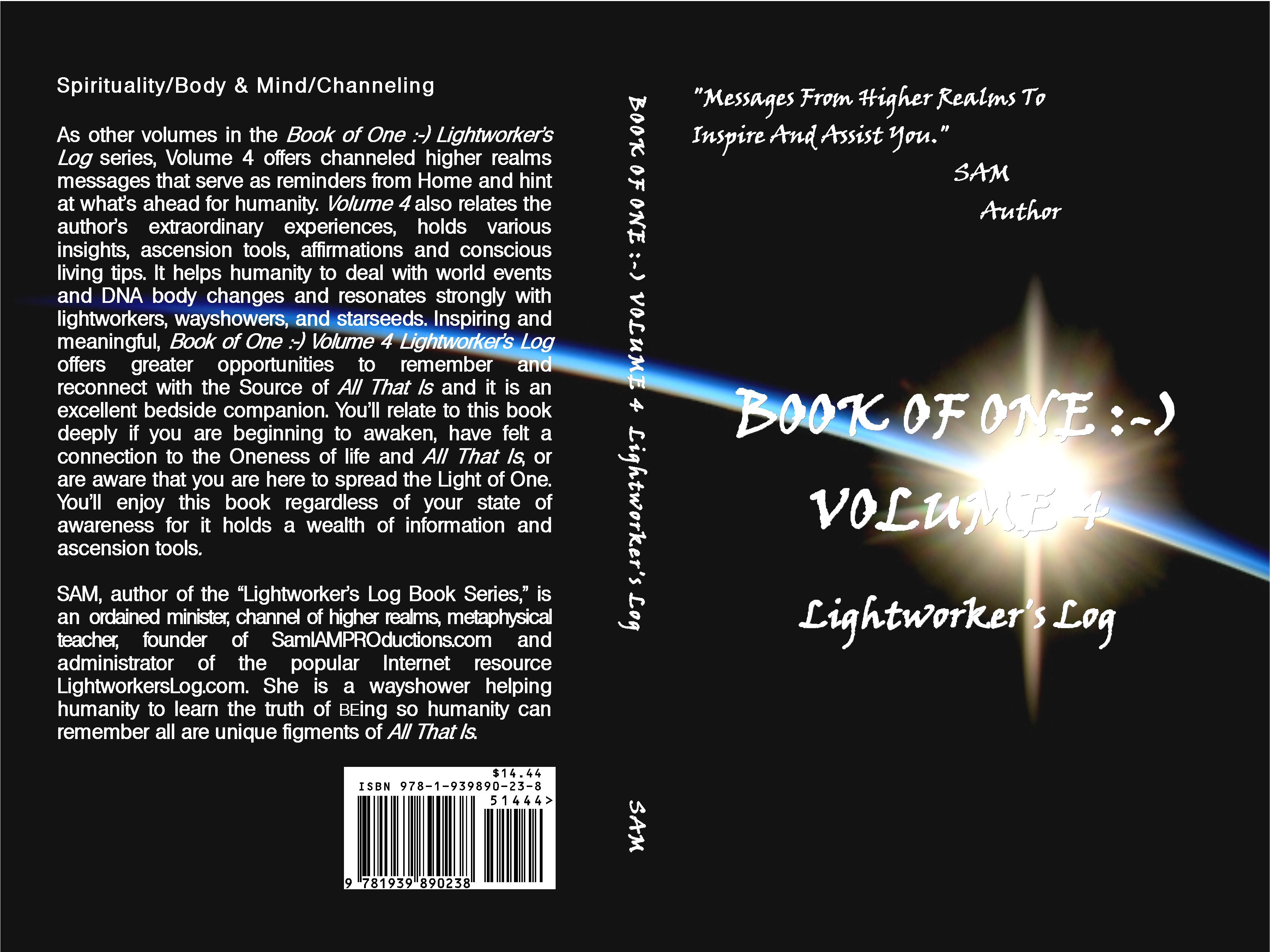 Book of One : – ) Volume 4 Lightworker's Log helps humanity to deal with world events and body changes. It holds various insights, extraordinary experiences, notes signs of body changes for those choosing to evolve with Mother Earth and offers affirmations and conscious living tips. You'll relate to this book deeply if you are beginning to awaken, have felt a connection to the Oneness of life and All That Is, or are aware that you are here to spread the Light of One. You'll enjoy this book regardless of your state of awareness for it holds a wealth of information and ascension tools.

This volume,

Book of One : – ) Volume 5: Group Consciousness Messages

helps readers to understand the role of higher realm Group Consciousness in humanity's ascension. Inspiring messages from groups such as the White Winged Consciousness Of Nine, Lemurian Council Of Twelve and the Galactic Federation reach people in different states of wakefulness, while
relating earth and ethereal events during humanity's ascension

. SAM also shares

various extraordinary experiences

making this volume an excellent bedside companion. You'll enjoy this book regardless of your state of awareness for the messages within it serve as reminders from Home, relate current events, and hint at what's ahead for humanity. This volume holds an Index to make finding topics of interest much easier.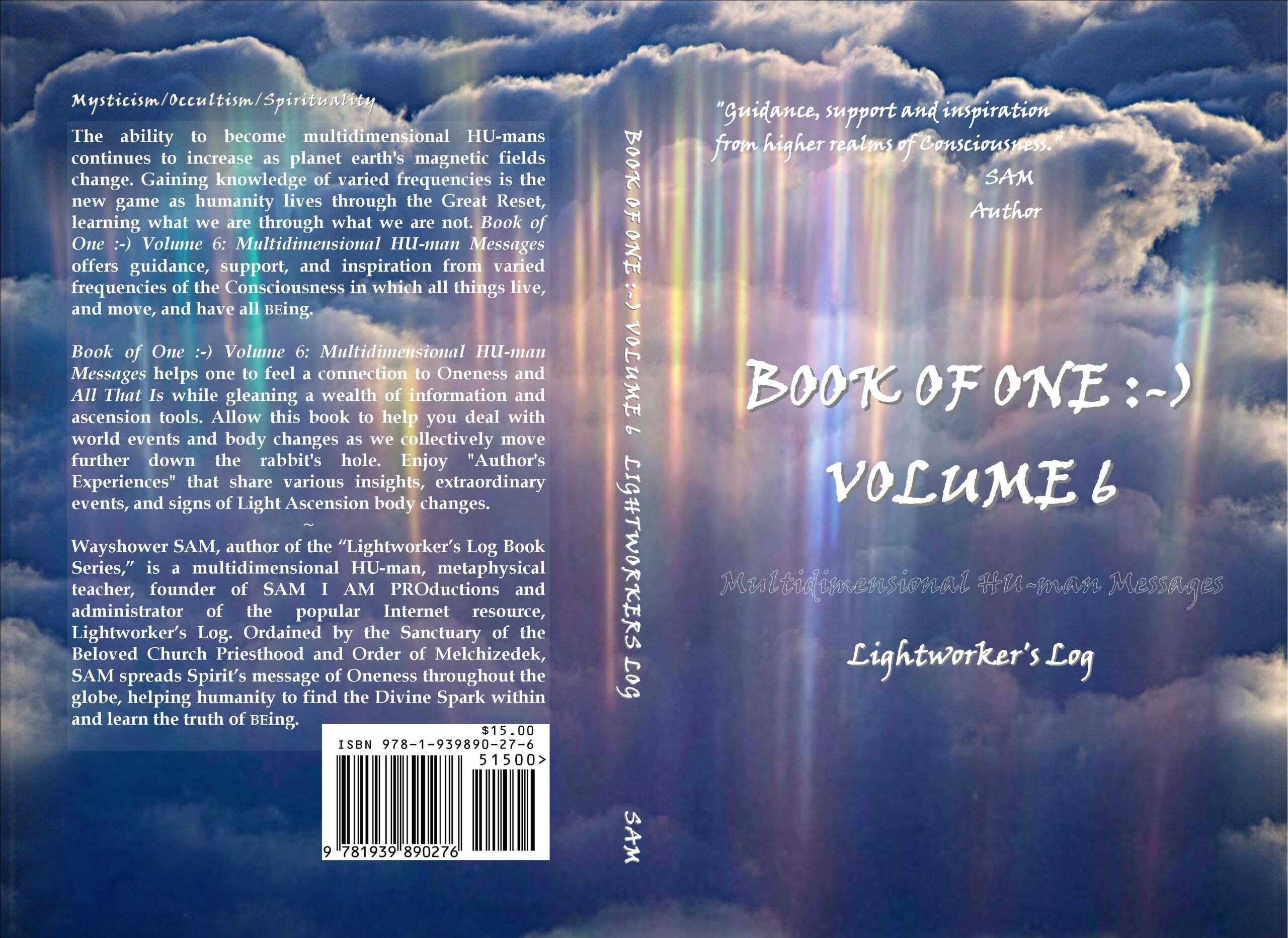 The ability to become multidimensional HU-mans continues to increase as planet earth's magnetic fields change. Gaining knowledge of varied frequencies is the new game as humanity lives through the Great Reset, learning what we are through what we are not. This volume offers guidance, support, and inspiration from varied frequencies of the Consciousness in which all things live, and move, and have all being.
Book of One 🙂 Volume 6: Multidimensional HU-man Messages

helps one to feel a connection to Oneness and All That Is while gleaning a wealth of information and ascension tools. Allow this book to help you deal with world events and body changes as we collectively move further down the rabbit's hole. Enjoy "Author's Experiences" that share various insights, extraordinary events, and signs of Light Ascension body changes.