As humanity continues to move through the process of awakening and chaotic earth events increase, it is always best to learn as much as we can to lessen and or eliminate disaster within our self and surrounding areas. Experience on this realm and in other remembered realms has taught me we can manipulate energy to our liking merely through emotion. To illustrate this point, below is an excerpt from "Bits Of Wisdom." Use your own resonance and discernment if ever faced with the circumstance of an earth or other catastrophe.
Anchoring Energy
"…Each event changes energies around us and needs grounding to cement the new Mother Earth. Our bodies change right along with Gaia to remain on the same wavelength.
For many years, these events worried me until physical manifestation of changed consciousness happened right before my eyes during a tornado. This occurred after several years of work to change the way I thought. Knowing that thoughts physically manifest to create the world in which we live helped me to mold a peaceful existence despite surrounding physical circumstances.
A sudden gust of strong wind prompted me to stop writing and rise from the big, brown, Lazy Boy chair to investigate one sunny 2011 day in late spring. Sounds of debris hitting solid objects resounded through the air as I walked toward the back porch. They reminded me of hurricane sounds but it was not that season so I remained unafraid.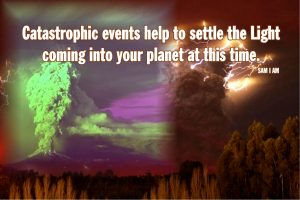 Peace filled me even when I opened the back screen door to investigate. There, before my eyes to the right, sat a funnel cloud. Instead of cowering in fear with recognition my attention drew to a variety of objects that seemingly floated in mid-air. Pieces of wood, roof tiles, stones and other small objects swirled in the funnel as I watched in wonder. It didn't occur to me that I stood a mere twenty-feet away from a tornado as I stood with gaping mouth watching the scene.
It was so awesome that all I wanted to do was record the event so, of course, I closed my mouth and ran back into the house to get a camcorder. The funnel moved past my rented home and down the canal by the time I returned. Tiles ripped off several houses a mile away as I watched trying to video the scene in vain. And very soon, the funnel disappeared.
I reentered the house to finish the day's work but rose again hungry two hours later. Several people had strolled past the house, which was very unusual for the very quiet neighborhood. More people stood near the drive as I backed out for a quick drive to buy fresh vegetables.
Police tape and a scene from the movies sat around the corner five houses away. Maneuvering around a crowd of gaping neighbors, I headed around the tape. A quick glance to my left revealed several damaged roofs, scattered debris and ripped up lawns. The scene played out throughout the neighborhood as I made my way, sometimes driving on people's lawns, to get to the store (Yes, fresh salad is now a must!).
The telephone rang insistently as I entered the house upon returning home. "Are you alright?"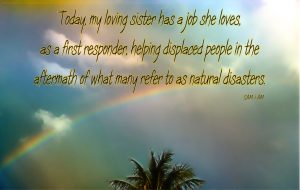 All I could do was shake my head in wonder as I laughingly explained how the funnel cloud entertained me for several minutes. My sister could not comprehend the state of consciousness that kept me safe. No, I was crazy for not cowering in the closet upon seeing the funnel…"
Today, my loving sister has a job she loves, as a first responder, helping displaced people in the aftermath of what many refer to as natural disasters.
Experiences of good often increase when we concentrate on inspirational thoughts. E-mail comments and questions at the  Contact Page and visit SAM I AM Productions to support your physical body and Self as we collectively move through these chaotic times. Loving You!