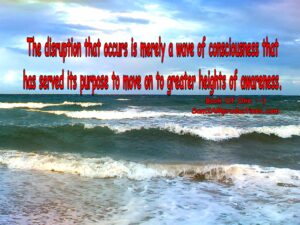 "You are coming to a point in your process where all will be known. Do not allow this knowing to disturb you for as it becomes known it becomes unknown. Do not follow the known but follow the unknown into a new path of righteousness, of beingness for self and all humanity. The knowing becomes the unknown with each revelation of knowing. Know that the disruption that occurs is merely a wave of consciousness that has served its purpose to move on to greater heights of awareness.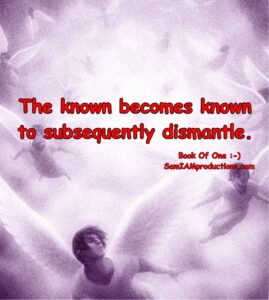 "…. Go forth into this land of greater states of awareness knowing that the thought is easily gained when focusing upon ones Self rather than what appears known.
"We are the White Winged Consciousness Of Nine here to relate it is time to increase awareness of the unknown within each unique individual living upon a planet that continues to dismantle at rapid rates."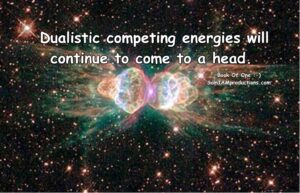 The separation is occurring so that each soul can have its experience and expression without interference from those wanting different experiences. Everything unknown is now becoming known (particularly for this time, the disclosures about an experimental substance) and subsequently unknown, because they are, upon being known, recognized for what they are, illusions in the game of earth life. …
It's important to always recall, the earth game is all about soul expression and experience, … (Teachings available from various sources help us to understand and connect with more evolved aspects of Consciousness.)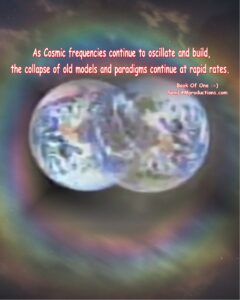 As an example of what it's like to live upon both an old and New Earth, I offer a bit of my own current experience. Having avoided western medicine since finding other ways to cure many diagnosed conditions, including three "incurable" ones (details are in my first three books) I do not…However, most of my family continues to believe in a Western medical system, which repeatedly creates disease via drugs and then subsequently treats them with more untested drugs and surgeries.
Now being known as what they refer to as CRAZY, I'm not privy to their experiences unless I take the time to phone them or read their Farcebook page. So, this means when … Shingles caused by the… to consult.
The bottom line is: if you appear to be ignored by family and life-long friends, try to put your human aspect aside to fully recognize that your unique experience and expression is one of s…, in terms of the soul it is the quintessence of experience.
Support your Self or a loved one by purchasing an inspiring bedside companion that does not detrimentally affect the physical body. Comments, questions and suggestions welcome at the Contact Page. The paypal account has been closed but in 2023, you can purchase any PRINTED Lightworker's Log book through the author by sending the rounded off dollar cash amount of the book ($11.11 would be $11), the book name, your e-mail address (for verification of order received), name and mailing address to SAM, P.O. Box 39385, Fort Lauderdale, FL 33339-9385. Please add $5 for shipping and handling.
I cannot stress enough the value of keeping an inspirational book in print at bedside! Also consider boosting your vibrational rate with the Book of One 🙂 Series. Remember, a physical book in your hand cannot be erased digitally and is easier on the eyes and soul than gadgets that can have a microwave effect on the body.