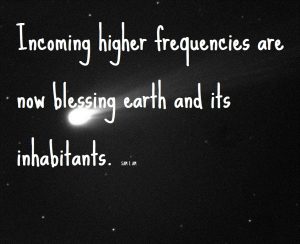 Your world spins out of control as the chaos accelerates only to abruptly place the world in a standstill. This period of quietness, stillness, shutdown will assist all those on earth to adjust to the incoming higher frequencies. Incoming higher frequencies are now blessing earth and its inhabitants. These frequencies arrive from various sources, which you know as your sun, the Great Central Sun, comets, other planets, and the alignments thereof. Know that the standstill upon your earth will last but for a short time, and yet to those unprepared this time will seem much too long.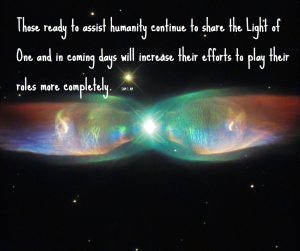 Those ready to assist humanity continue to share the Light of One and in coming days will increase their efforts to play their roles more completely.
It is with the greatest respect that we ask those on earth to prepare for this stand down, this shutdown, this time of stillness. This time allows the systems of earth to adjust on all levels as it allows the human systems of the body to adjust and become more in tune with their own source of information. Know that these changes upon your earth are necessary to balance and harmonize not only with one another but all earth systems and the very earth itself. As the earth also balances and harmonizes, it moves through space toward its final completion cycle.
We are the White Winged Consciousness of Nine and we are available to assist, through guidance, those wishing to tap into this source.
Book Of One : – ) Volume 5
---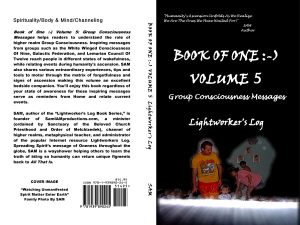 ---
Comments, questions and suggestions welcome at the
Contact Page.
Support your Self by purchasing an inspiring bedside companion.
Description: Book of One : – ) Volume 5: Group Consciousness Messages helps readers to understand the role of higher realm Group Consciousness in humanity's ascension. Inspiring messages from groups such as the White Winged Consciousness Of Nine, Lemurian Council Of Twelve and the Galactic Federation reach people in different states of wakefulness, while relating earth and ethereal events during humanity's ascension. SAM also shares various extraordinary experiences making this volume an excellent bedside companion. You'll enjoy this book regardless of your state of awareness for the messages within it serve as reminders from Home, relate current events, and hint at what's ahead for humanity.
Visit SAM's author's page at Amazon.
Find sales and free shipping by clicking on the Paypal Links or contacting the author directly at the Contact Page!