Enjoy this Book Of One : – ) Volume 6 excerpt!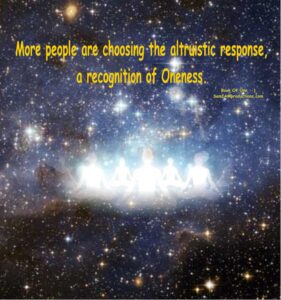 More and more (people) upon your earth are choosing the altruistic response. As you move through this process of learning to achieve through looking out for your sisters and brothers, it is with the greatest pleasure and respect that we, the White-Winged Consciousness of Nine, applaud you, those of the earth ready to take this step forward in the ever-expanding awareness, the unfolding, of the true consciousness of each God-spark upon planet earth.
It is only through the altruistic response that this is possible as many upon the earth move the other way to continue their claim of limitation. Those not choosing this route of limitation shall move forward in evolution much quicker as they continue within the realm of Oneness, not focusing on the rapid separation upon the earth.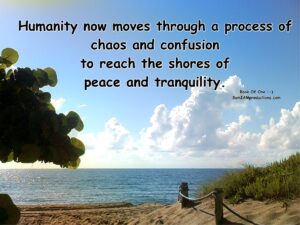 The altruistic response is one of knowing the Oneness of which humanity is, of which all things are, focusing on the mirror aspect of each individual; for it is only in seeing one another as yourself that makes one able to hold within themselves the aspects necessary for altruistic living.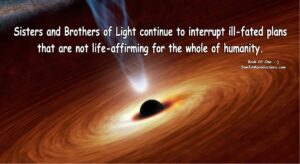 As human beings upon earth continue to move through this process of chaos and confusion to reach the shores of peace and tranquility, it is only by moving through this process that those shores are reached and joyously celebrated by not only humanity but the higher, more evolved aspects of consciousness.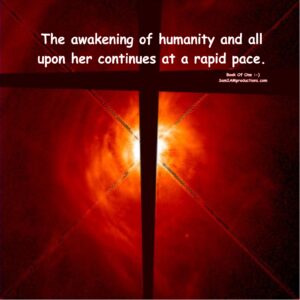 We now ask that one pay particular attention in coming days to the gross inadequacies of established systems to care for its constituents in a life-affirming and timely manner. As conditions continue to force as much of humanity as possible, to corral as much of humanity as possible, into small spaces of living, through rules and regulations normally unheard of upon your earth, know that your Sisters and Brothers of Light are watching, are waiting, are guiding those open to guidance, and will continue to interrupt ill-fated plans that are not life-affirming for the whole of humanity.
It is only in seeking the life-affirming aspects for the whole of humanity that one is able to evolve into full consciousness of its true state as an altruistic being upon the earth ready to serve Self and humanity in greater ways as the unfolding, the awakening of humanity and all upon her continues at a rapid pace.
Find more inspiration and information pertinent to current times in the three later volumes of The Book of One : – ) Series.