"We are with you now as you move through these changes. The progress is steady and smooth for some and not so steady and smooth for others. The earth changes rapidly and along with these changes the human psyche, consciousness, changes as well. Knowing all is one, knowing all is, after all, illusion in your mind of one, the small one, it is still of the utmost importance to continue the practices of holding and building the lightbody. These practices are much more easily done when one is with ones self rather than in groups of uninformed people.
"Each human has chosen its path carefully as a soul and now is the time that many souls step away from their families, from the group consciousness in which they were raised and believed to be true, to move into their own state of increasing awareness of the Oneness of all life. This Oneness is not an illusion. This Oneness is of All That Is and ever will be, and this Oneness does not change. As the human form takes on more of the attributes of the lightbody, it becomes necessary to achieve awareness of this Oneness.
"This Oneness will help all as moving through these changes progresses more smoothly and fluidly for those that know the truth. Ye are gods in human form and that human form continues to change at a steady rate with these waves of consciousness entering the earth's atmosphere. This step towards Oneness is a necessary process to move though the bodily changes fluidly, progressing at a state unheard of on any level of awareness.
"Know that all are watched over carefully. Know that all, each form is guided. It is only in the small mind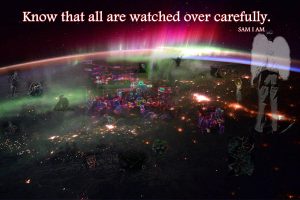 of one that chooses not to listen to the guidance received, not to believe the guidance received, that one continues to enter the field of mass chaos, which is now upon your earth. Know that all those who listen to the guidance within, all those who have honed their human body to the point where only Love and Light can enter, will continue to be guided through this process with smooth and steady progress. The Oneness of which you seek is already yours and we cannot stress enough to remain within that Oneness of the small self and within that awareness that ye are human gods in matter, now changing the course of humanity in an unheard of way.
"We are the Lemurian Council Of Twelve and we are with you always."
Experiences of good often increase when we concentrate on inspirational thoughts. Find more channeled messages in "Book of One 🙂 Volume 1″ available through New Leaf Distributing at , Book of One 🙂 Volume 2 OR visit SAM I AM Productions to support the author by purchasing books there and not through greedy corporations. Loving You!