"Pay attention to the people in your life. They are going to change very soon. Many more people will be opening up to an increased awareness of Self and they will seek out those whom they believe will help them understand what it is all about on earth. All are called forth now as these lighter energies take firm hold upon earth. All may not be ready to listen or lead but those that do will be fulfilling their soul's mission on this plane of awareness.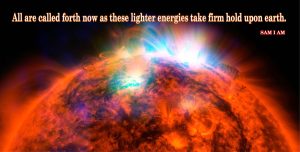 "It is in the best interest of souls to allow each individual to be heard, to experience their own experience and to allow others to do the same. We, the White Winged Consciousness of Nine, are here to assist in that process and we wish those of you who lead by example to know, we are with you all the way. We are here to answer any questions you may have as you lead by example knowing you are not alone.
"On this realm of reality there is a means to increase the state of awareness in which one lives. This is not achieved entirely by being alone (although we do recommend some time be spent alone) but with other humans who can mirror the state of awareness in which you have passed, seek or have meaning to include in your life.
"It is with the greatest respect that we ask you to not hold anyone in disfavor for their beliefs, their chosen experiences, or their particular way of achieving their experience. For know, all souls chose to experience their physicality on this plane in different ways.
"We, the White Winged Consciousness of Nine, are here to note: all are loved, regardless of the soul's choice to play any role."
Experiences of good often increase when we concentrate on inspirational thoughts. Find more channeled messages in "Book of One 🙂 Volume 1″ available through New Leaf Distributing, Book of One 🙂 Volume 2, and Book of One 🙂 Volume 3 OR visit SAM I AM Productions to support the author by purchasing books there and not through greedy corporations. Loving You!