"We, the Lemurian Council of Twelve, wish to express our gratitude to those of you moving forward. Gridkeepers, gatekeepers, we are grateful for your assistance in helping to cement New Earth energies. Your world becomes a place of wholeness it once was many eons ago but this will take some time. In the meantime, we wish to inform and bless all involved in this process, the process of returning to the original form of Light.
"And so it is that we move on knowing the task is achieved for earth is but our path as well. With the assistance of those upon the earth, we move forward in evolution as well. So we thank those stepping forward to replace us.
"We, the Lemurian Council of Twelve, wish to salute you as the world returns to its original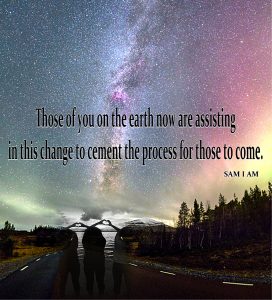 form, Light. This too shall take many eons of time. Yet, those of you on the earth now are assisting in this change to cement the process for those to come. We express our gratitude. We know this process is not a steady movement for many. We know this process may seem gruesome and burdensome to many humans on earth. But we wish you to know, it is already achieved in other spaces of time."
Visit SAM I AM Productions to support the author by purchasing books there and not through greedy corporations. Experiences of good often increase when we concentrate on inspirational thoughts. Find channeled messages in "Book of One 🙂 Volume 1″ available through New Leaf Distributing, Book of One 🙂 Volume 2, and Book of One 🙂 Volume 3. Loving You!