WOW! I was in bed, on the cusp of waking, moving in and out of dimensions (I consistently ask to remember being in dimensions where I am more conscious than I seem to be in this one.) My friend and I seemed to be working but we were scanning the shelves of sale items to look for needed materials. Then I forgot what I was doing and asked myself, "Wait a minute, what was I doing?"
My friend now seemed gone. I tried to get back to where I'd been but all of the sudden I seemed to be sucked out of the room, backwards. The scenery kept changing and my body kept moving and I couldn't control it. I was being sucked out of scenes and kept moving and moving and flowing faster and faster. I moved faster and faster, watching scenery and at one point began to panic.
"Wait a minute," I said. What's going on here? What's happening?" I asked.
And then I told myself, "Just go, and just go with the flow."
Now I seemed to be just watching the scenery without emotion and moving towards something, no longer backward but able to see what I approached. I was still being pulled forward and now there was a brilliant, golden-yellow wall of Light way ahead of me. The wall was not well-defined but seemed to morph into the scenery from which I was coming from. It was a very fluid coming together of golden-yellow Light and scenery. It appeared that once you reached the Light there were degrees of Light, deeper and deeper shades of Light to move into.
I continued to flow towards the Light. But before I reached the Light a noise within the dimension where my body lay in bed caught my attention. My mental body then had to determine how that noise woke me. Of course, right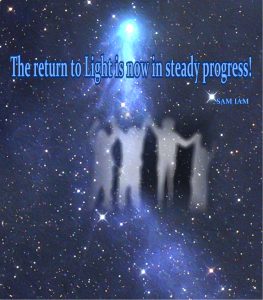 away I grabbed the tape recorder to document this grand experience! Hopefully, next time there will not be anything to pull me out of that dimension and I shall complete the experience. It was wild! It was a good wild experience!
Pay attention to your dreams for they often consist of multiple dimensions in which you can play. Before sleep, tell yourself you will remember your multidimensional travels and bring down wisdoms into this New Earth. The return to Light is now in steady progress!
Experiences of good often increase when we concentrate on inspirational thoughts. Find more channeled messages in "Book of One 🙂 Volume 1″ available through New Leaf Distributing at , Book of One 🙂 Volume 2 OR visit SAM I AM Productions to support the author by purchasing books there and not through greedy corporations. Loving You!