"You are moving forward, those of you who have agreed to this process of becoming more in states of awareness, in multiple bands of consciousness, in your own BEingness. We come to you now as group consciousness, ready to assist all those now moving through this process, which may be arduous at best. But know that the end results are glorious and already achieved for those moving through this process, as humans, as souls, as states of BEingness, consciousness, aspects of the totality of All That Is.
"These coming days upon your earth will continue to be filled with energies assisting humanity, compliments of what you assume to be your sun." (I get the impression the assisting energies are coming from yet unknown bands of consciousness, perhaps what many refer to as the Great Central Sun.) Know that as you move though this process, the knowingness of your awareness changes. This means that those of you who think you know what is occurring may change your mind while moving though this process.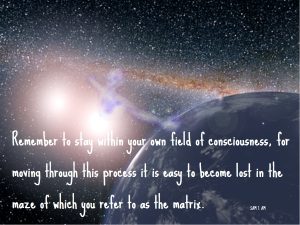 "Bands of consciousness are important. Remember to stay within your own field of consciousness, for moving through this process it is easy to become lost in the maze of which you refer to as the matrix. Ask for your guidance from the highest aspect of your Self and know that we, the Group Consciousness Of Aspects Of All That Is, are always with you ready to assist as you wish. As your own consciousness expands within the matrix of your own beliefs, you become more aware of the bands of consciousness that are readily available to tap into at any moment in time. Pay attention to the vibrational range of frequencies within your own energetic field and know that that range changes constantly.
"We are the Group Consciousness Of Aspects Of All That Is and we are here to assist as desired."
Experiences of good often increase when we concentrate on inspirational thoughts. E-mail comments and questions at the Contact Page and visit SAM I AM Productions to support your Self as we collectively move through these chaotic times. Loving You!