We, the White Winged Consciousness of Nine are here to report, all upon your earth now changes as energies from unseen realms take greater hold within and upon your earth. The days of separation are ending but not until they have reached their furthest point in your spectrum of duality. Prepare for the days ahead when all shall be pushed into separation, if they choose to do so. Know that as celestial beings in essence there is no separation and it is only in your world called earth that this exists to assure that all aspects of All That Is see their selves within the eyes of another.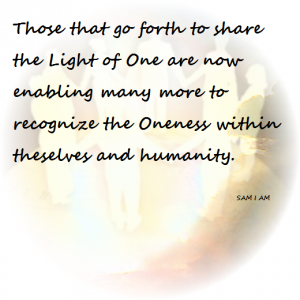 The only way to Oneness again for all is to be in separation long enough to hold compassion for another human within your own body/mind system. These days will be afforded much assistance from unseen realms but it is those of you on earth, who hold the Light of One, the Oneness of which you truly are and now recognize, that will make the most change on your earth. Remember, all thought, all emotion, all words make a difference in the illusion of your world, and those that go forth to share the Light of One are now enabling many more to recognize the Oneness within themselves and humanity.
We leave you now with this thought: You are the Truth you came to seek on earth and it is only through your understanding of the POWER you hold within that earth shall return to its rightful and original aspect of One.
Experiences of good often increase when we concentrate on inspirational thoughts. E-mail comments and questions at the Contact Page and visit SAM I AM Productions to support your Self as we collectively move through these chaotic times. Loving You!