Enjoy this Book Of One : – ) Volume 6 excerpt!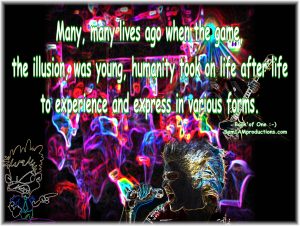 Many, many lives ago when the game, the illusion, was young, humanity took on life after life to experience and express in various forms. It was through this experience and expression that it gained the knowledge of itself. It was through this experience and expression that it  …  the arduous process of coalescing those many small selves of experience and expression, and it is through the recalling of these aspects, whether consciously or subconsciously, that this takes place.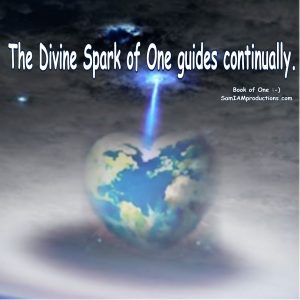 As one moves though this process, it is of the utmost concern to stay within one's own field of consciousness, to care for the body with utmost attention, for as this process unfolds the body yet again goes through another experience and expression, only this experience and expression has never before been experienced or expressed upon earth. Know that….  … As arduous as it is, as arduous as it was for us, consider it is less arduous for those moving through the process at this point in the time/space continuum. And yet we did not move though this process while in human form.
The game, if you will, now being played within the matrix of illusion of separation is a new game, and … .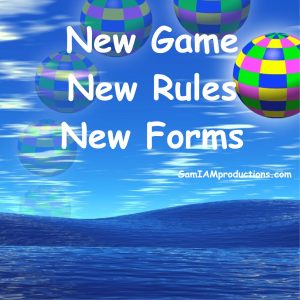 Author's Experience: Waking, sleeping, everything hours, are totally changed, all over the place and sporadic during these current times of very high, off the charts and unheard of before, geomagnetic activity as not only measured via human bodies but also measured scientifically through the Schumann Resonance. The one thing that seems to be sporadically constant is the bouts of  …  … what I used to refer to as a 'fluey feeling' that … carbon to crystalline to crystal. It is a process that is yes most arduous and I have been told in previous channels that the process will not be completed by 'me' in this lifetime so now I begin to wonder what's the use of going through even a portion of this process…
Full article in Book Of One : – ) Volume 6!
Support your Self or a loved one by purchasing an inspiring bedside companion. Many multidimensional experiences are documented throughout the "Lightworker's Log Book Series".