"Sharing tools and resources for conscious evolution"
Prayer Treatments: Lightworker's Log is a blueprint for any spiritual seeker who wants a richer, healthier, more fulfilling life. The "Lightworker's Log Book Series" documents the awakening of Lightworker SAM.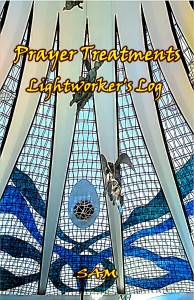 Energy surrounds us on this planet called earth. One of the ways we form this energy is by thinking. Our thoughts play a major role in what occurs in our life. Good thoughts manifest good things.
The same is true of all thought so it is vital to fill our mind with only positive thought. One way to do that is to pray. Repeating prayers helps to change our point of view and inner health. A change in how we look at things makes it possible for us to change everything, including our body. Thoughts hold much more power than ever imagined. Maintaining a positive attitude is the first step to health. Our bodies respond to thoughts so changing the way we think changes the way our body functions.
Many of these prayers helped me to change my reality, from fragmentation to wholeness, by transforming ideas and beliefs. After two years of habitually repeating treatments, envisioning an enjoyable unrestricted life, I became completely free of the thirteen medications that ruled my small world. After decades of despair, sickness, poverty, and limitation, I am now living a hopeful and joyous life of wholeness, excellent health, freedom, and prosperity. I cannot promise this for you because thoughts, I have learned, are everything. You are in total control of your own thoughts! So what do you have to lose?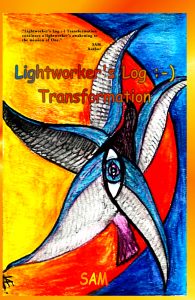 The story of how these prayers made a positive difference for me lies within the "Lightworker's Log Book Series", specifically the third book, Lightworker's Log 🙂 Transformation
Energy surrounds us on this planet called earth. We form this energy with emotion and thought. Our feelings create thoughts, which play a major role in what occurs in our life. Good thoughts manifest good things.
Prayer Treatment Podcasts are from the book Prayer Treatments: Lightworker's Log. They help to train your mind to think more positively. I chose to repeat many of them every day, some like the World Healing Meditation for several years. Saying it always made me feel good. I am sure it not only makes a difference in how we see the world but helps to manifest a peaceful world as well.
Please be aware that you support the author most by purchasing books directly from her, which cuts out the middle man and increasing costs to publish books. For comments, questions, donations or book purchases please connect with the author, visit the Contact Page.
Order the book from the author along with a nine-track "True Vision Sample CD" that includes: The World Healing Meditation,Successful Use of Spiritual Mind Treatments,Perfect Physical Health Treatment, The Healing Song, Non-Reaction to Outside Forces Treatment, Supply Treatment, Money is Coming to Me, Fatigue Treatment, and Worthy. You may purchase the book, the CD, and shipping and handling within America for a total cost of $14. Mail your order to Rev. SAM, P.O Box 39385, Fort Lauderdale, FL, 33339-9385.
"True Vision Sample CD" Musical Selection Credits:
"The Healing Song" – Words: Karyl Huntley, Daniel Barwick, Michael Sakir, Doris Jones; Music: Karen Drucker & John Hoy. "Money Is Coming To Me" – Words: Karen Drucker; Music: Karen Drucker and John Hoy. Find "The Healing Song," "Money Is Coming To Me" and many other inspiring musical selections at KarenDrucker.com.
"Worthy" is from the CD, The Great Awakening, from Anthony Burbidge, available, in addition to more inspirational music at AnthonyBurbidge.com.
Watch the video version of the World Healing Meditation
A Few Words About The "Lightworker's Log Book Series"
Many people are realizing that life on earth is not all it appears to be. As some people, Sharon became more aware of this fact upon the transition of her first child.
Four years later in 2008, she was guided to begin publishing books to help humanity return to Oneness. The "Lightworker's Log Book Series" unfolds as Sharon reveals each step of her way to spiritual awakening. Each book in the series relates not only her 3-D experience but interactions with higher states of reality, 3-D, 4-D, 5-D and beyond. This multi-dimensionality is something many people now experience at increasing rates. If you are beginning to realize there is more to life than you thought, if you are already awakened and well on your path, this series offers verification, inspiration and timely tips to help you move though the Matrix to FREEDOM from limitation.


Use the sharing links to tell a friend about Lightworker's Log!