Why do we persist in remaining in physical form when we (as spirit) have no need to? This question arises as we move closer to 2020 where many more people shall leave the planet, no longer a match for it's constantly changing frequency.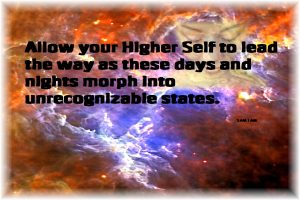 One might ask the question above if one continues to remain in physicality. What then is the role of such a person? Is it to cement further the rising state of Oneness and Christ Consciousness? Is it to cause pause for thought through aberrant energy pointing out what needs to change? Or is it, by choice made before taking on physical form, to assist those who seem lost in the maze of increasing deceit and denial of Oneness?
One must choose to remain within the force of Oneness by actions, by thoughts, emotions and words matching that state of which they wish to experience. For it is only experience and expression of the soul for all to partake of here on earth. Allow higher realm energies, so to speak, your own Higher Self to lead the way as these days and nights morph into unrecognizable states.
Experiences of good often increase when we concentrate on inspirational thoughts. E-mail comments and questions at the Contact Page and visit SAM I AM Productions to support your Self as we collectively move through these chaotic times. Loving You!