Dear Beloved Soul Family,
One of the reasons I am facilitating bi-monthly gatherings is to help raise the bodies vibration to better move through these highly energetic times. As magnetic beings, our bodies continually respond to the magnetic fluctuations that are within, surrounding and millions of miles from earth. These fluctuations are increasing and will continue to do so over the next few years. Combined with fearful mass consciousness, which often chooses to go back to old habits and ways of living, and the ever-changing mass consciousness of those now awakening (using chaos as the tool to do so — as souls this was the choice), we are faced with a crucial choice. What state of awareness and being do I choose to support and live within?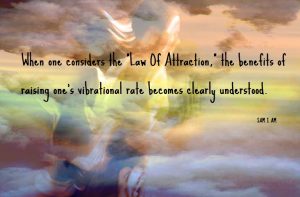 When one considers the "Law Of Attraction," the benefits of raising one's vibrational rate becomes clearly understood.
The choice of how we live is always ours to make but one should know, in these ever-changing times humanity is now moving though a process of bringing to the fore-front EVERYTHING that has been hidden. This means not only what appears outside ones self but within ones self as well. As this process continues, humanity is increasingly faced with body changes, often in the form of aches, pains and what appears as illness and disease (dis-ease on a soul level) to surface these too long hidden shadows.
Again, it is one's choice as to how to move though these times. As one who has dedicated multiple years to personal and planetary ascension, it's clear nothing will remain the same so be prepared to make crucial choices as to the direction of life. Gathering with people of like mind helps us to raise our vibrational rate and shift realities from the mass chaos of 3D to the more life-affirming 5D Christ Consciousness.
The next bi-monthly "Conscious Living In The Midst Of Chaos" gathering is scheduled for Thursday, June 27th from 6-7:30 pm. Feel free to join us for "Manipulating Energy Consciously." Everyone is welcome and group participation is encouraged.
The Theosophical Society, 831 SE 9 Street, Deerfield Beach, Florida , 3441-5633, Located in Palm Plaza, U.S. 1 & SE 10th Street, 2 miles east of I-95, SW 10th Street Exit
Suggested Donation–$5.00
If you forward this to a friend, the link to sign-up for these updates is: Fort Lauderdale, Florida E-mail Updates
Namaste