Source: Book Of One 🙂 Volume 2
"There will be assistance programs for those in need. Pay them no mind for they are designed to enslave you. The greedy cabal knows that many will seek these programs as the great storms (caused by these entities) make it difficult for people to live. You must form communities of wholeness and peace on your own. Live off the land and barter for your goods. This is the way humanity shall prosper in the future on your earth for it is the way you began before the greedy cabal took over.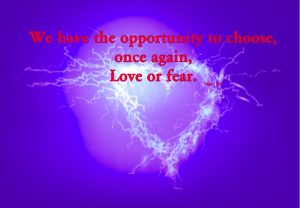 "This is a necessary occurrence for those wishing, striving to become more in tune with All That Is. The freedom you seek is already yours, in all aspects. You have only to seek the wholeness within to find and secure it. Those wishing to enslave humanity for all time are but aspects of yourself reaching out in the darkness of their own illusion. Paying no heed to their game of enslavement, you bring these aspects closer to the Truth of their (your) BEing.
"Remember, everything is energy and energy flows where attention goes. The more people that pay attention to enslavement, the more humanity sinks down into the mire of disappointment. Let this not be the case in your small mind of one but continue to reach for the higher vibrating energies of wholeness, peace, love and joy, prosperity and Truth.
"As things 'come to a head,' on your earth, all these unnecessary occurrences will fall away quickly as people realize their own power to change the world in which they live. Having nothing will create a void that soon fills with the beauty of everything whole."
Support Your Spiritual Truths. Experiences of good often increase when we concentrate on inspirational thoughts. E-mail comments and questions at the Contact Page and visit SAM I AM Productions to support your Self as we collectively move through these chaotic times. Loving You!!