We continue to help humanity transmute, cleanse and clear parallel lives and people not in the highest interest of the soul. Each life lesson, each life journey is now registered in the Akashic Record of the soul and therefore the tools used to reach these heights are no longer necessary. These tools (people, conditions, etc.) are now being erased from the memories of those who have chosen as souls and consciously as humans to move forward into the new timeline of Gaia. It is in the best interest of each human to take the time to repeat: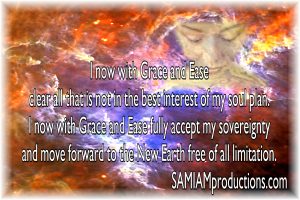 "I now with Grace and Ease clear all that is not in the best interest of my soul plan. I now with Grace and Ease fully accept my sovereignty and move forward to the New Earth free of all limitation."
We are the White-Winged Consciousness Of Nine here to assist those ready to move forward."
PS: It's clear that people and conditions not in alignment with those of us holding New Earth energies (not in the interest of Oneness or the highest good) fall further away from our energy field. This is something I've experienced during the past several years.
Support those who support you. It is as simple as that. Experiences of good often increase when we concentrate on inspirational thoughts. Comments, questions and suggestions welcome at the Contact Page.~Support your Self by purchasing an inspiring bedside companion. Introducing Book Of One 🙂 Lightworker's Log Volume 4!~Visit SAM I AM Productions to support your Self and the author by purchasing books there and not through greedy corporations. Loving You!
Find other resources at SAM Of Light on Facebook.