"Stay in your own field of consciousness. Remember, what you feed your head with during the day moulds your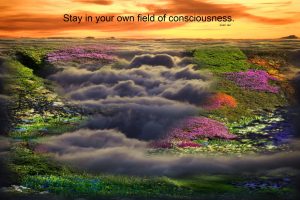 world. Always recall you are a soul that has taken on human form to experience, to express and to expand its own richness. There are many others in this world who are expanding their own richness as well. The ways they perfect this richness may not be the ways you perfect yours. Stay in your own field of consciousness and know each experiences what it has chosen to experience. There is no right or wrong.
"Remember this is an illusion of your own making. Remember the goal is to experience to the utmost level. This may create chaotic times on your earth but be aware, as you are a form of energy you shall attract what your consciousness holds, consciously and unconsciously. Keeping your vehicle clear of unwarranted chaotic action is easier when paying attention to what you allow in your energy field.
"We are the White Winged Conscious of Nine and we are here to assist those that wish to leave the illusion."
Experiences of good often increase when we concentrate on inspirational thoughts. Comments, questions and suggestions welcome at the Contact Page. Support your Self by purchasing an inspiring bedside companion from the Book Of One 🙂 Lightworker's Log series! Visit SAM I AM Productions to support your Self and the author by purchasing books there and not through greedy corporations. Loving You!