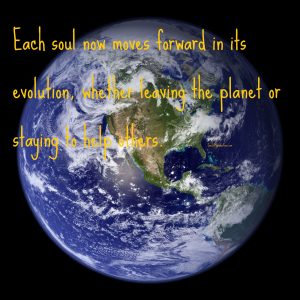 "Know that all things unfold in a timely manner within your world. The charge before humanity is to evolve as never before. Each soul now moves forward in its evolution, whether leaving the planet or staying to help others. Each soul remaining shall help one another in different states of awareness, for not each soul has chosen to awaken to the truth of True BEing. Know that in your world, as these chaotic days continue to unfold in a timely manner, all is in perfect and Divine order.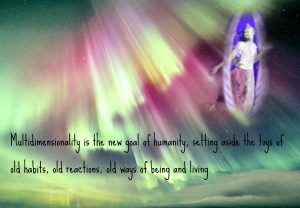 "Those not ready to awaken will continue to play the game of separation, of limitation, of honing the soul's ability to recognize its True Self in future time and space. And yet as you know, all is one. Those now awakened tap into the multidimensional aspects of their own BEingness, with the ability to reap the rewards thereof. Multidimensionality is the new goal of humanity, setting aside the toys of old habits, old reactions, old ways of being and living. Next on your horizon is a new frontier, for all who wish to play the game of multidimensionality. Those moving forward at this time shall guide, as others continue to lead the way toward greater aspects of BEingness, knowing their multidimensionality and reaching those to assist and support yet others.
Know that in your world as chaotic events unfold, these events are needed within the grand plan of awakening. Know too that each plays its Divine role, regardless of what seems to appear in your world. Know that we, the White Winged Consciousness Of Nine, and other higher realms, are there for all to tap into upon deciding, agreeing and reaching toward their own multidimensionality.
Support your Self or a Loved One
with an inspiring book.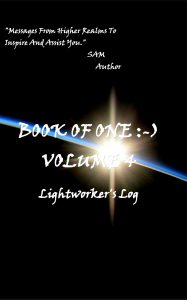 Support those who support you. It is as simple as that. Comments, questions and suggestions welcome at the  Contact Page. Support your Self by purchasing an inspiring  bedside companion. Visit SAM I AM  Productions  to support your Self and the author by purchasing books there and not through greedy corporations. Loving You!
Visit The Lightworker's Log Main Page