"Behaviors will change with these downloads of Light, Consciousness/Energy. These behaviors will change with those taking on the Light as well as those not assimilating the Light so effectively or efficiently. Humans unaware of the process do not assimilate the Light as effectively or efficiently. Those not choosing to undergo the process will return to the New Earth to assimilate the process at other times in humanity's awareness.
"Yes, in your small mind of one, all is illusion, as in the Course (A Course In Miracles), and yet as you move through this illusion, is it not easier to know these things to help you move through them more smoothly and fluidly? This is the question we ask the channel as she continues to repeatedly question.
"Know, assimilating these energies are best done as discussed in previous channels. Rest is of the utmost importance as is hydration and a lighter diet. The exercise is not as important as these waves are coming though for the body is taxed to the utmost adjusting with these waves. The mineral composition of the body is changing drastically and of course, many are requiring additional minerals, magnesium to be specific. There are other minerals and requirements the human form takes on as these changes coalesce more fluidly on the earth. Each is guided in its own way.
"We, the Lemurian Council Of Twelve, will continue to be with those who wish to be guided. Remember, all here now were on, in, the consciousness of Lemuria. The true state of humanity is not a dense human form as it is now; that form is finally moving back to the form we held as true Lemurians. Know that as this process unfolds, those wishing to move though it will move through it with more fluidity and grace when seeking the guidance of their own unique aspects.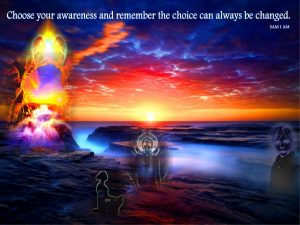 "We are Lemurian Council Of Twelve and we are here to help humanity adjust back to the frequency it held so effortlessly upon first arrival on planet earth. We ask you to choose your awareness and to remember that that choice can always be changed. We are One. In Peace, the Lights evolve within you."
Experiences of good often increase when we concentrate on inspirational thoughts. Find more channeled messages in Book of One 🙂 Volume 2, "Book of One 🙂 Volume 1″ available through New Leaf Distributing, and Volumes 3-5; visit SAM I AM Productions to support the author by purchasing books there and not through greedy corporations. Loving You!