"It is time to speak your truth, Gatekeepers, Gridkeepers, your specific actions help to cement the crystalline grid. Your earth changes rapidly as all unseen realms watch from afar, distant galaxies, distant planets, and yet, distance is only a state of mind. It is time to speak the truth of the Law of One. In coming days, all shall become more aware of this Oneness as your world yet again experiences mass confusion, mass chaos. This is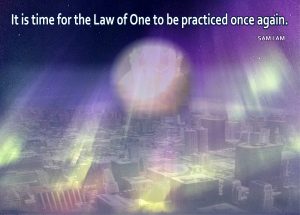 yet another new beginning for humanity and Mother Earth.
"The Law of One, simply stated, you are a part of one another; you are part of the Oneness of All That Is. You are part of the very consciousness that fills the air, between, within, among you. Go out and spread this word of One to all who seek it. It is time for the Law of One to be practiced once again. This is done by treating others as yourself, knowing you are each a part of the Oneness of all things."
In my mind, I ask for a source to name, even knowing it is all illusion and every message comes from my own consciousness. If I must name a source for this message, I hear, make it Amanda.
"I am Amanda and I come to you now as part of the entity through which this channel comes. It is after all only one."
Consider Ascension Tools & Resources To Support Your Spiritual Growth.
Experiences of good often increase when we concentrate on inspirational thoughts. Find more channeled messages in "Book of One 🙂 Volume 1″ available through New Leaf Distributing at , Book of One 🙂 Volume 2 OR visit SAM I AM Productions to support the author by purchasing books there and not through greedy corporations. Loving You!