"All humans are gifted channels or would not be on earth at this time. The life you chose to incorporate into your soul lessons and experiences is this one of becoming one in all aspects once again. The time is here to come to your full power and sovereignty. This is a necessary task to help humanity evolve with the New Earth.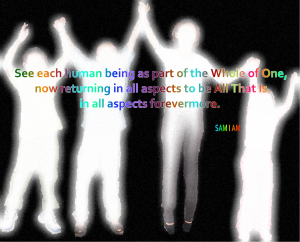 "We ask you to now become more aware of the task before you, to see each human being as part of the Whole of One, now returning in all aspects to be All That Is in all aspects forevermore. We are the White Winged Consciousness of Nine and we are here to assist those ready to reach this level of awareness. Ask and you shall be rewarded with the tools necessary to move into this power and sovereignty now."
Consider Ascension Tools & Resources To Support Your Spiritual Growth.
Experiences of good often increase when we concentrate on inspirational thoughts. Find more channeled messages in "Book of One 🙂 Volume 1″ available through New Leaf Distributing at , Book of One 🙂 Volume 2 OR visit SAM I AM Productions to support the author by purchasing books there and not through greedy corporations. Loving You!