"You shall move forward in your quest to help humanity, step by step, as you more fully move out into the world. This crucial step in the soul's work (yes, imaginary as it is) is a necessary step in the soul's process of being and doing, of being and doing the work assigned as part of the Whole of One. Yes, this is a game the soul chose to play before birth. Yes, this is an imaginary game of earth life. Yet, we ask you this:
"What will one do with imaginary time, if not striving to end it with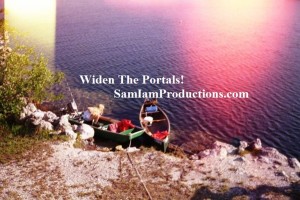 Love and Light-filled camaraderie? What does a human do who is conscious enough to know all is energy, all is affected by energy and all affects energy? One must follow their joy and truth. If one does not resonate with soul's choices, there is always the choice to choose again.
"Make your choices now and be assured it is a game of your making. We are the White Winged Consciousness of Nine here to assist."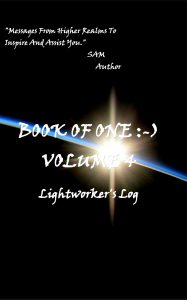 Experiences of good often increase when we concentrate on inspirational thoughts. Introducing Volume 4!  Pre-publication sales through the author get a bonus of "Prayer Treatments: Lightworker's Log" with each order. E-mail me at Page 2 for details and free shipping. Find more channeled messages in "Book of One 🙂 Volume 1″ available through New Leaf Distributing, Book of One 🙂 Volume 2, and Book of One 🙂 Volume 3 OR visit SAM I AM Productions to support the author by purchasing books there and not through greedy corporations. Loving You!