"The Mind of One is open for all to partake of. This state of awareness is a perfect state of being that many now will enjoy in 'dream' states. Mind you, a dream is a trip (in one's physical brain) to another reality, another dimension in your time and space that includes your own consciousness.
"The Mind of One is the connected point of reference for all those seeking true Unity. This mind is a true state of being where there's no separation. We invite you to visit this space as often as possible as your world seems to make yet another gross adjustment. World events will change drastically in coming months brought on by the ever-changing consciousness of the masses that are now awakening from the dream of separation. This mass awakening will be brought about by what seems to be disruptions in every avenue of life on earth. Those prepared in mind and body will help those yet awakening from the dream of separation.
"Remember, the only way to the other side of illusion is to move through it knowing there is a reason, a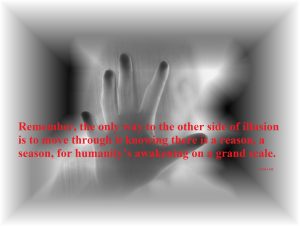 season, for humanity's awakening on a grand scale. This awakening will affect all those humans on earth and some more than others. Awakening from the dream of separation does include the knowing that there is only one mind and it is the mind your small mind of one chooses to associate with.
"We, the White Winged Consciousness of Nine, leave you with this thought:
"What choice you make as you move through this dream determines where your consciousness lies in other realities of the illusion of time and space." (In other words, it is time to be fully conscious in all dimensions of time/space, to train the mind to know without a doubt that there is NO separation, to focus all thought from the viewpoint of the Mind of One (Oneness) rather than the individual mind of your physicality.)
Introducing Book Of One 🙂 Lightworker's Log Volume 4! Visit SAM I AM Productions to support your Self and the author by purchasing books there and not through greedy corporations. Loving You!