"As you move through these earth changes, be aware the body changes as well. We, the White Winged Consciousness of Nine wish to convey, this may not be considered an easy process as your systems and organs change to be more in tune with the changing earth. Body heat signals the mind to know, yes, these changes are occurring. This requires a period of cooling as the body becomes cold. There will be times when one wakes repeatedly to sense these changes.
"Periods of deep sleep coupled with recall of vivid dreams upon waking will signal one in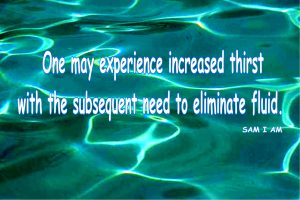 to the differing realities of their own illusion. This is a common occurrence when one begins to recognize the world is not as one has been taught. One may sense other realms of existence in waking hours as well but for the purposes of relating the night experience we wish to continue. One may experience increased thirst with the subsequent need to eliminate fluid. Yet, the fluid eliminated will always be more than consumed during these bouts of body change so do continue to flood the body with fluid. One may also sense dizziness as the result of traveling between differing vibrations of awareness. And yet, the body will appear 'normal' in all cases. We relate these changes to set your mind at ease, all is well within the process of change for both earth and body.
"We are the White Winged Consciousness of Nine and we are here to assist as always."
Experiences of good often increase when we concentrate on inspirational thoughts. Comments, questions and suggestions welcome at theContact Page. Support your Self by purchasing an inspiring bedside companion. Introducing Book Of One 🙂 Lightworker's Log Volume 4! Visit SAM I AM Productions to support your Self and the author by purchasing books there and not through greedy corporations. Loving You!